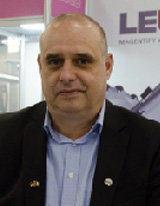 Hans-Jürgen Himmel, Head of Latin American market for Leuco and IKEA Account Manager Worldwide speaks to Apratim Ghoshal, editor-in-chief, Wood & Panel during MEM Industrial on their participation, presence in Mexico and more. Excerpts.
| | |
| --- | --- |
| | |
| | |
| | |
| | |
| | |
| | Leuco has a very strong presence in Mexico for more than 50 years. How is the show MEM Industrial so far for you? |
| | Hans-Jurgen Himmel: I think the fair is well organized. Yes, our brand Leuco is very strong here and this year we represent us with a bigger booth. We have our three distributors here who work with us in Mexico. |
Three distributors only for Mexico?

Hans-Jurgen Himmel: Yes, we have three exclusive distributors. This is because, selling tools is not only important for us but after sales service is another most important aspect. For us at Leuco, all the dealers and distributors should have service station where you grind the tools, saw blades etc. It is very important that they are able to sharpen in the same quality that we do in Germany. Our dealers are here in Mexico City the other one is in the state of Morelia and then we have one in the northern part. In fact, when I started with him 20 years ago he had a small office and today he has 9 branches all over the Northern parts of Mexico.

So Mexican market is a huge market for you?

Hans-Jurgen Himmel: Yes we have grown over the last 20 years. Well, we have not grown so fast but we have grow in a way that we are today in a good situation.

Are you exhibiting anything new in this show for the Mexican market? And how is the feedback?

Hans-Jurgen Himmel: Yes. Yesterday I had a presentation here and I have focused our NN system- this is small saw blade for table saws and it's no noise- plus you can cut a lot of material with this saw blade. It is really good from solid wood to particle board or MDF. Then we have redesigned SmartJointer airFace which is on display.

The feedback is very good. Some customers have already asked for this. We know that many people still are buying carbide tools but we want to replace them in future for diamond tooling. This is our first aim right now for this year.

Do you get often request to customize any product for this market according to the requirement?

Hans-Jurgen Himmel: Yes yes , of course! We have almost everything. If we don't have, we make it!

What is the special feature you generally offer through DP panel sizing or saw blades?

Hans-Jurgen Himmel: Today in Europe, it is very important. The first thing is noise reduction and the second thing is the material chip evacuation. The diamond-tipped cutting edges are treated with the special LEUCO "topcoat" coating. The coating on the tooth flanks helps to keep dirt from sticking to the blades, thus extending the edge lives of the diamond tips by up to 50 %. When trimming wood materials, the running meter performance reaches a completely new level when it comes to edge life with G6/G5 sawblades.

Beside this show are you concentrating in other shows in Mexico?

Hans-Jurgen Himmel: We are now going to Guadalajara next!