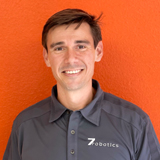 Joey Koenig, 7robotics' Business Director shares with Wood & Panel about their latest innovations and how 2022 has been a grand year. Excerpts.
WPU: For the first time ever you participated in a grand fair like IWF Atlanta. How was the experience?
Joey Koenig: The IWF surpassed our expectations for discovering new opportunities and for reconnecting with existing customers.  As we talked to people about their manufacturing operations, we heard a common desire to increase automation.  We definitely plan to return to IWF in 2024.
WPU: What all you showcased at the show? Tell us about your latest innovations.
Joey Koenig: We ran a video montage showcasing our past projects.  These included various material handling and assembly systems.  Our latest project features a 3 in 1 end-of-arm tool that drills a pilot hole, screws a fastener and vacuums up sawdust.  Tolerance in that system can't exceed 1/32".  We also were proud to present a packaging system that utilized two robots to QC, wrap, barcode and stack wood moulding.  The way that the 7robotics team handled this complex challenge system resonated with many of the folks who visited our booth.
WPU: Robotic Pallet Nailing project and other cool robotic automation crowded the stand at IWF. Tell us about the machines.
Joey Koenig: The pallet building cell was a big hit at IWF.  This machine has a nail gun and vacuum bar.  The robot can nail a pallet together in a jig while the operator loads material for the next pallet.  Once nailing is complete, the robot switches to the vacuum bar and can stack the pallet.  This machine is currently set up in our lab for demos and tours.
WPU: Recently you have opened a new operation in Roseburg. Tell us about the growth plans and business expansion.
Joey Koenig: We are thrilled to be designing and manufacturing robotic cells in our new 7robotics lab in Roseburg, Oregon.  To accommodate the growing backlog, we will be adding another 40% of space under roof.  From a personnel standpoint, we like the opportunity set in the market and plan to add to both sales and operations teams in 2023.
WPU: Since automation is the way forward. How far do you focus on sustainability in machine and robotics to maintain a healthier business environment?
Joey Koenig: 7robotics provides industrial robots that make our customer's work environment safer.  We strive to eliminate much of the heavy and repetitive work that can lead to injuries over time.  Once a robot is handling those repetitive tasks, companies can move their employees to safer and more productive areas of the manufacturing process.