Guffey's PIVOTPOINT solves spraying issues
&nbspThursday, December 15, 2022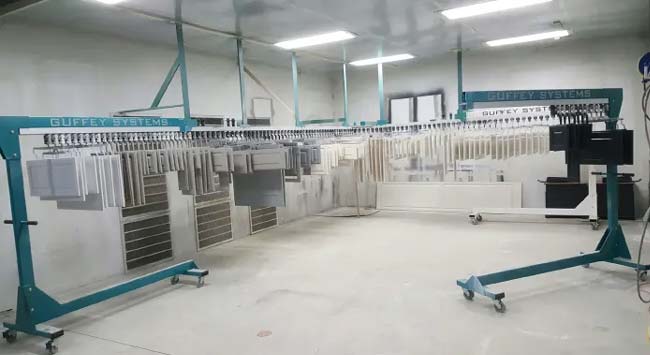 The PivotPoint System offers a robust and cost-effective option to spray all sides of the components at a time. PivotPoint is the perfect solution for the shop that wants the most flexible material handling solution available from Guffey Systems.
This path breaking innovation from Guffey Systems offers several benefits to the woodworking and manufacturing industry.
Configurable
The PivotPoint system is modular and can be sized to fit any shop or budget. As per the increase in production process the system can grow to fit any shop's needs. PivotPoint is perfect for shops with smaller spray booths or for those that are looking for a lower initial investment.
Every component you buy for a PivotPoint setup will transition to be used with a PivotLine System when you're ready to upgrade.
Additional Advantages
Great for small batches
Entry-level price point
An ideal mobile finishing solution for custom remodel projects
Hangers provide a secure method for moving components without touching them
All components can be bought as separate parts to increase capacity as needed
PivotPoint is an easy e-commerce purchase
Same high quality, durable materials as PivotLine
Stock Racks easily move parts wherever needed in the shop for staging or drying. The PivotPoint Spray Hub provides a stable base allowing the finisher to spray all sides of the parts without touching them.
The finishing process is the bottleneck in almost every cabinet shop and Guffey, a third-generation cabinetmaker from Seymour, Tenn., understands firsthand the frustration and expense that finishing slowdowns cause. Inspired to find a better way, he took his ideas to Aptus DesignWorks, an engineering firm with extensive experience taking products from concept to mass production. Together, they formed Guffey Systems and developed the PivotLine material handling system.
Tags: door spray, Guffey System, wood, wood spraying, woodworking, woodworking and manufacturing, woodworking and processing, woodworking industry, woodworking USA