LEUCO Tools breaks ground for USA Expansion
&nbspMonday, May 14, 2018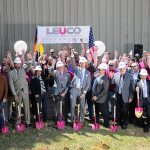 LEUCO Tool has recorded continuous growth in the U.S. for years and finally reached its limits in terms of available space.  On April 17, 2018, the LEUCO Tool Corporation in Villa Rica, Georgia, broke ground for the planned expansion of its administration and production building. The modern, expanded building will house a showroom, a training center, office and production areas and employee break rooms. "Our intended goal is to captivate our industry in the U.S. and Canada with our innovative, forward-looking and reliable tools and services well into the future," says Jens Schulz, CEO of LEUCO Tool Corporation, in explaining the company's investment.
In 2003, the LEUCO Tool Corporation headquarters was relocated from Ingleside, Illinois, to Villa Rica, Georgia. Today, the LEUCO Tool Corporation has over 100 employees at seven locations in the U.S.
This construction project will be completed in two phases over the next year. The first phase involves renovating and adding on to the administration building followed by expanded production and sharpening service areas. The added space will give employees the best possible support to meet the ambitious requirements of a lean and modern company.
This expansion project is an important milestone in the development of the LEUCO Tool Corporation and is enthusiastically backed by its employees. During the official groundbreaking ceremony, Jens Schulz emphasized the economic significance of the expansion for the company, for the employees and for the LEUCO brand in the U.S. The ceremony was also attended by representatives from the planning office, construction company as well as local administrators. Even the mayor of Villa Rica, Jeff Reese, and the chairman for economic development, Christopher Pike, congratulated the LEUCO Tool Corporation on taking the first step toward expansion.