Plant-based wood coatings from Sherwin Williams
&nbspTuesday, September 20, 2022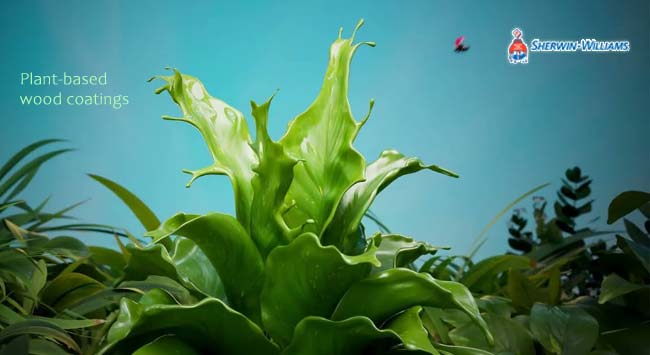 Sherwin-Williams introduced plant based wood coating for responsible designing.
Wood projects may be now coated with the all new bio based coatings and reduce carbon emission. In a more environment friendly way the coatings will reduce the harmful impact on the society.
Carbon emissions from lifestyle choice impact the climate. By choosing WB plant-based wood coatings the user may reduce carbon footprint. At Sherwin-Williams, the team endeavors to grow business with the greatest care for people and the planet. It's simply in the nature to try to make a truly positive impact on the world around. Sherwin Williams developed a complete range of wood coatings containing plant-based ingredients.
Several objects that may be coated with the all new bio based coatings are furniture, kitchen, interior and exterior. The plant based coating is available for every wood projects.
Whether coating wooden furniture, kitchen cabinet doors, interior or exterior building products, this plant-based wood coatings help in significantly save on CO2 without making any compromises on performance and quality.
"Our plant-based wood coating solutions fit in our commitment to address our new sustainability goals under an integrated sustainable framework: Environmental Footprint, Product Blueprint and Social Imprint."
Benefits of plant based coating:
Reducing dependency on fossil-based products. Makes switching to plant-based easier without harmful impact on society.
Safer & better working conditions. Meets clean air regulations and requirements of different eco labels.
No issues for consumers to switch to plant-based products.
The higher C14 content, the lower CFP a product has. This is a big leap for Sherwin-Williams and our customers to move away from 100% fossil-based products.
For years, Sherwin-Williams has provided manufacturers and finishers with the coatings they need to make their products look better and last longer, while helping their operations meet productivity and sustainability goals.
Tags: plant based coating, Sherwin-Williams, wood, wood coating, wood projects, woodworking, woodworking and manufacturing, woodworking industry, woodworking USA