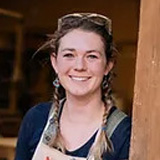 As the greatest woodworkers are rising across America and reshaping the definition of art and craft by implementing their creativity, we, this time, are shining a light on one of the best woodworkers who love to create unique objects and find immense joy in teaching masterpieces. We had the privilege to talk with the owner of Dolece Woodworks. Meet Alex Dolace. The dream maker, achiever and perfect definition of craftsmanship. Excerpts
Can you share your thoughts on what makes your product development so unique? What can you offer through your creation?
Alex Dolese: Building custom furniture really allows me to develop a relationship with my clients. Working together to design and build a piece of furniture allows my skills to grow and expand and ensures the clients are getting what they really want. Luckily, my wood shop is set up in a way that I feel like I could build most anything I want so it really allows for a creative process when building and designing fine furniture.
What's your motto behind the magical conception of Dolese Woodworks?
Alex Dolese: Dolese Woodworks is about being excited and passionate about what you are making and doing. I look forward to getting to my shop every day and building furniture. I think that is something that a lot of people don't have in their careers and I feel so fortunate to have been able to do what I love. I feel like sharing the woodworking knowledge and excitement though Dolese Woodworks is important as well.
What inspired you to kickstart your own woodworking business?
Alex Dolese: I grew up in a family of woodworkers. My parents, Tom and Jennifer Dolese, have a joint woodworking business, Terra Firma Design. Because of that I was introduced to a lot of other people in the furniture making world. I knew it was possible to make living building furniture. Plus for me, it was important to be working with my hands, building something and seeing an accomplishment at the end of the day. Woodworking is a subject that I feel like I will never know everything about and there is always something new to learn, no matter how long I pursue it.
According to you, what makes you most happy? Teaching the refinery skills of woodworking or crafting your own products?
Alex Dolese: I feel like I have so far set up a great balance between teaching and working on my own projects in my business. I enjoy doing both and I always learn something new from each student that takes one of my classes and it is so rewarding seeing them enjoy building and learning the craft. On the other hand, I love that I have the ability to be able to work on my own commissions and projects and push myself to build and design new things. I feel very fortunate that I am able to do both.
You have been fascinated with woods since childhood; how did you discover your passion at a very young age?
Alex Dolese: I actually was around woodworking all my life but I didn't get involved and learn until I was 18 or so. My parents did not expect me to follow their craft and did not put any pressure on me to learn or work for them when I was younger. I think they wanted me to discover what I wanted to do on my own. It wasn't until I moved out of their home till I realized I had an interest in woodworking and started apprenticing under my Dad.
What is one of your favorite creations to you until now that makes you happy and proud as well?
Alex Dolese: I have made a commitment to build all the furniture for my home. I made a point to set some time aside every once and awhile between classes or commissions to build something for our house. Being able to live with the furniture you make and appreciate it and study how you interact with it makes me happy and proud. These projects also allow me to push my boundaries on what I am building even more and develop more ideas.
Are you working on any new projects currently? If yes, what will be the future possibilities of the project?
Alex Dolese: I have a project coming up where I need to learn more about stains and different sprayed finishes. Finishing is a whole world in and of itself and there is an endless amount of information to be found – often conflicting information. I am looking forward to being more informed. I am also starting to dive into building more wooden light fixtures. I think that lighting is such an important part of our homes and I am often disappointed in the options out there. I would like to design lighting pieces that add a lot of interest to a home.
Lastly, do you have any plans for expansion outside the USA?
Alex Dolese: I own a small business, just a one woman shop so I don't have any plans on project expansion out of the states. I would like to be able to travel out of the USA and teach woodworking classes all over the world.