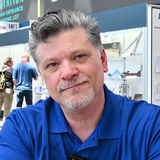 Angelo Gangone, executive vice president, Association of Woodworking & Furnishings Suppliers (AWFS) indulges in a face to face conversation with Apratim Ghoshal, editor-in-chief, Wood & Panel updated on witnessing an active fair ground that is abuzz with live demonstrations, interactions and business networking.
How is the reaction after the successful opening of the show? We can see everyone is so happy and the show is brimming with so many people around. What do you feel about the show?
Angelo Gangone : I feel good, obviously a lot of effort goes into putting a show like this together and to see all of these come together nicely and to see happy exhibitors really means a lot. As long as the attendance of course is impressive it makes us happy. There are a lot of activities on the showfloor and that represents a very healthy market for us. We couldn't be happier from that stand point.
This edition you have many new exhibitors so would you like to tell us about them, for example, from which region they are from, they are local or from all over?
Angelo Gangone: Exhibitors are from all over the United States, North America and international as well, it's a really nice cross sectional exhibitors from all over geography and products and that's one of the great things about this kind of shows where you get chance to see new products and that are very new to the market, things you have never seen before. It gives them a great opportunity to see something that will help them in manufacturing their product.
May be it is too early to talk about the visitors in terms of numbers but since we are talking on the second day, what's your feedback on the visitors.
Angelo Gangone : It's been great, I mean the registration surpassed 2021 on the first day and its fantastic and the attendance here is very good. We are getting more visitors for both days than we get in 2021 edition now, though it's a COVID year, and none the else it's great to see so much of activities and that the important thing went by a lot of boosts this morning and they were very very active and that's that you want to see as a show organizer.
We see a lot of new and award winning products, so how does it go such as the screening process and how you selected the finest?
Angelo Gangone : Everybody was a part of the Visionary new product awards and they submitted their products online through a website that we have specifically designed for this contest and then from there we choose finalist and final category and then the judges go through and pick a final winner those winners will be announced tomorrow morning.
 Do you have any speedy networking sessions here in the show?
Angelo Gangone : In terms of networking specifically, what we are finding here this year than any other years, we have seen a unique approach from exhibitors, that is they are setting up their own networking events for their customers, which is fantastic because not only they are able to meet their existing customers but are also inviting new customers, potential new customers and that's something we really encourage to our exhibitors because the show doesn't just take place from nine to five on the show floor it also moves into after hours in many cases and that's where a lot of the networking actively gets done as well as in our seminar programs and on the showfloor you will see that there are different events in the booths various exhibitors so with all of that you have got a very strong networking backdrop to the show that's this show is all about where we are bringing the entire industry together under one roof over the course of four days. And I think we have accomplished that mission.
As you know digitalization and sustainability are the two most important factors. So where do you place AWFS Fair in this?
Angelo Gangone : Sustainability is all over and you will get to see a lot of the sustainability around on the supplier side with some of the materials that they're coming to market which is great but even in ourselves we really believe in sustainability and we've had an ongoing relationship with WEIMA where they take all of the wood scraps and basically they recycle it and then donate it because before I remember the first couple of shows we did here we had so much wood waste which is really a shame and that wood waste ended up in a dumpster somewhere and we didn't think that was right so we decided to put it into good use and that is a  program that we have show after show and we're going to continue to have it so that is one of the ways that we contribute to it for sure.