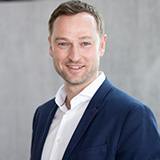 Ansgar von Garrel, head of marketing, Altendorf, shares his thoughts on the expertise of the company, recent product developments, and, of course digitalization – the spotlight of the woodworking industry. Additionally, Mr. Garrel bares his heart about their expectations for the upcoming AWFS Fair. 
How has digitalization brought innovation to your products?
Ansgar von Garrel: Digitalization is deeply embedded in the Altendorf Group strategy. More and more, it becomes a natural part of our products and our communication with our customers and partners. Some examples include the Artificial Intelligence used in our HAND GUARD sliding table saw with safety assistance system, the voice control concept for our edgebanding machines or our unique myALTENDORFGROUP service app.
All these features make life and work easier, frictionless and more efficient for our users. In addition, we increase efficiency in supporting and communicating with our customers as well.
Can you enlighten us on HAND GUARD? What made it an extraordinary innovation in the woodworking industry?
Ansgar von Garrel:HAND GUARD is a true innovation for safer working, not only in the woodworking industry, but also in processing other materials like aluminum or plastics.
HAND GUARD is a sliding table saw with an integrated safety assistance system. It helps to avoid injuries with sliding table saws.
It is globally the only certified safety assistance system for sliding table saws that:
Helps to prevent injuries
Works with artificial intelligence
Is GS-approved
Processes all materials, such as wet wood, aluminium and plastics
Works with trained gloves
HAND GUARD is the world's first and only safety assistance system that is approved by German authorities and that uses cameras and Artificial intelligent-based hand recognition. It defines a new safety standard for sliding table saws.
It is possible to detect dangerous situations in time to completely prevent injuries by using cameras and software that recognizes hands.
In contrast to other systems on the markets, the HAND GUARD system is the only system that can handle conductive materials such as aluminium, plastics, damp wood or conductive coatings.
How has the edge banding market expanded with time? 
Ansgar von Garrel:The edgebanding market has seen a steady growth in the last years.  Main reasons being the expansion of the global furniture market, an increasing consciousness and demand for different materials, individualization as well as environmental considerations from customer side. Machines have advanced in efficiency, quality and reliability as well.
What are your expectations regarding the upcoming AWFS fair? What will be the prime highlights for visitors?
Ansgar von Garrel:The Altendorf Group America will present a broad range of products on the booth, such as HAND GUARD, F 45 and F 25 sliding table saws as well as the new Hebrock F and K Series next edgebanders.  Also, there will be hourly HAND GUARD live demonstrations on our booth. Existing and potential customers and dealers are welcome to stop by our booth to learn about the "Power of Partnership".
How do you see the USA as a market for your products?
Ansgar von Garrel: We have been present in the US market for more than 40 years already. Therefore, we know the market and we see a growth potential, both for sliding table saws and edgebanders. The overall economy is not as affected by the economical and political factors as Europe. As we operate our own Altendorf Group US subsidiary, we offer the complete infrastructure of sales and service in the US market. These are perfect conditions for a future growth in the US market.
Going ahead in 2024, what are your plans? 
Ansgar von Garrel:For the US, we will increase our sales and service presence in the US market even more. Our HAND GUARD system has a huge potential and should contribute to safer working conditions. We will also make our myALTENDORFGROUP service app to the US market to bring our users even closer to us. There are many exciting things to come and we are truly looking forward to bringing this to our customers.