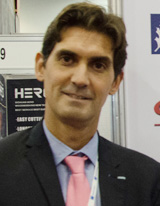 Christian Clapes the General Manager for AMPIMM speaks on AMPIMM, their association with Deutsche Messe and Mexico in general in a face to face interview with Apratim Ghoshal, editor-in-chief, Wood & Panel group.
Tell us about AMPIMM.

Christian Clapes: AMPIMM is a Mexican association for woodworking and all the suppliers for the manufacturing industry. We are based in Mexico city. Today we have more or less 45 members coming from the supplying industry. Many of them are here in this exhibition, and we are talking about suppliers from the design. We have members from design to the finishing tools passing through the machinery, components and so on.

Our main objective in Mexico is to help manufacturing companies to become more professional, to use latest products, raw materials and processes to become more profitable.
| | |
| --- | --- |
| | |
| | Well! I understand you are coming here every year with your exhibitor to facilitate more business and more opportunity. So, Since Deutsche Messe has taken over this show for the last few years. What's your perception and what is your view on this? |
| | Christian Clapes: Well! Firstly it's a nice show! I mean AMPIMM was used to handle its own fair with only supplying companies but since the last two years ago we have merged with Hannover fair Deutsche Messe in order to have one big show in Mexico. Before that, we were talking about three four exhibitions, now we have 1 good show in Mexico. That's benefit for the market. |
| | |
| | Can you tell me more about the show. Is it the value change? |
| | |
| | Christian Clapes: We want to introduce designs for buyers. In Mexico, you know the people used to copy some design in Europe in US and to beat them here. Now, what we want to tell those people those companies that Mexico have lots of talent. Just ask for new design from those Mexican talents in order to have your own design for your own company. Because, when you are in economic crisis time, the only way to go growing, is from my point view, is innovation. |
| | |
| | So being a member of this association, what are the benefits the production company may gain? |
| | |
| | Christian Clapes: Well for our members, they have access to some study cases. We are also trying to give them some key figures in size of the industry in order to take some decisions by themselves. Then we are trying to do networking in order to generate those leads. In fact, for such things we started several years ago Road Show – small events in different part of Mexican republic and it such a show we were inviting like 17 furniture manufacturing companies in order to be aware of the new raw material and the new components that exist in Mexico for them to open their vision, that can be more profitable for them. |
| | |
| | So how do you see the growth of the need in the Mexican market for the production company and how you feel the German, Italian, Mexican companies can fulfill those needs? |
| | |
| | Christian Clapes: Mexico is an important country. In many sectors, we are important and then you will meet in Mexico a lot of distributors- distributors for the wood working industry, distributors for the construction industry, for the production, beverage and so on in Mexico, thanks to these German companies, Italian companies and other European companies and American company. They are of course important and have good quality of raw material of products. It's a little bit shame that Mexico is not producing company but anyway we need to now to be a good importer company selecting nice and good product in order to fill in the gaps in the Mexican market. We are getting what they are doing outside in order to also to bring in inside. |
| | |
| | |
| | |
| | |