2023 Closets Conference is now open
&nbspWednesday, April 12, 2023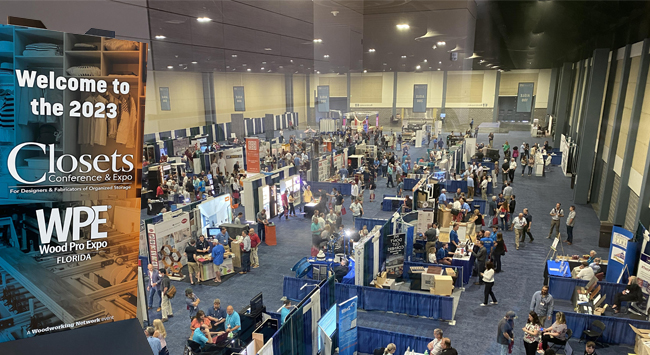 The 2023 Closets Conference & Expo, co-located with Wood Pro Expo Florida, starts today at the Palm Beach Convention Center with an opening keynote from economist Dr. Chris Kuehl, Armada Corporate Intelligence, Managing Director / Co-founder, who will discuss the state of the industry and the current economic environment. Closets Conference & Expo runs April 12-14 at the Palm Beach Convention Center in West Palm Beach, Florida.
The conference will then divide into two tracks – Closets and Wood Pro – with educational sessions, co-sponsored by the Association of Closet & Storage Professionals (ACSP) and Cabinet Makers Association (CMA), from industry experts sharing their insights on everything from trends in modern design, video in marketing, workforce, and shop issues, contract details and more.
After a full day of sessions, attendees will tour Closet Lifestyle in Riviera Beach, Florida. The company is an example of how a high-end custom cabinetmaker also branched out to service high-end custom closet clients.
The day ends with an opening reception, co-sponsored by ACSP, Woodworking Network, and ClosetPro Software, back at the convention center.
The two-day Expo kicks off Thursday, April 13, and includes free opening keynote presentations on both Thursday and Friday. Plus, join the ACSP on Thursday for topic-specific round tables on Advanced Design, Lighting, Materials, and Trends. The clinic includes a tour of vendor booths per session. And the 2023 Top Shelf Design Awards reception, sponsored by CCF Industries, takes place Thursday evening in the gardens of Hilton West Palm Beach.
source: woodworkingnetwork.
Tags: 2023 Closets Conference & Expo, Closets and Wood Pro, COVID-19, wood and panel, woodworking, woodworking and manufacturing, woodworking event, woodworking industry, woodworking USA