25 stories wood building stands tall in Milwaukee
&nbspFriday, January 21, 2022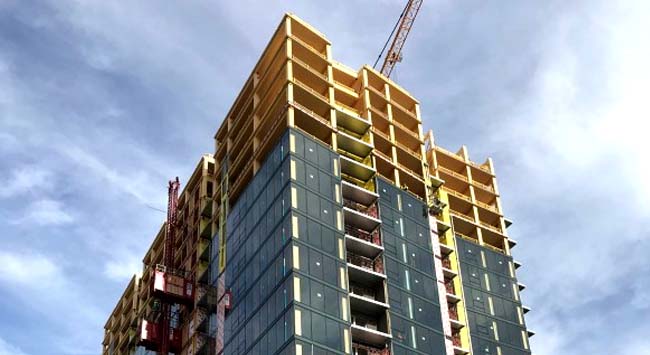 The residential Ascent project in downtown Milwaukee by New Land Enterprises at 25 stories is considered the tallest timber structure in the world.
The project is built of spruce CLT (cross laminated timber) panels for floors and walls, and glulam for rafters beams and columns, most of them manufactured in Austria by Wiehag Timber Construction. These were bolted and screwed together onsite with 100,000 fasteners driven into place by crews from C.D. Smith and Thornton Thomaselli, using banks of cordless power tools continuously recharged at rolling charging stations. As of January 10, 21 stories are glassed in, and the first nine floors have had cabinetry and flooring installed.
Tim Gokhman, director of New Land Enterprises, says working on Ascent transformed his views on timber from an aesthetic choice to a material with multiple interlinked advantages, citing its shorter construction period, and lighter foundation weight. To assemble the 19 wood-based levels, fewer than two dozen workers were required—including one who drives 1,400 two-foot-long screws to secure flooring to the beams—at the rate of 800 per day. By contrast, nearly 70 were required to build the six-story concrete parking pedestal on which the wood tower rests. Openings are precut for in the CLT panels for ventilation, plumbing, and electrical pipes.
"What started as a visual inspiration turned into a conviction that this material represents the future of construction," Gokhman says. He says that marketing for new projects often touts operational sustainability, but is not always transparent about the environmental impact of how the building is built. Timber as a material may shift that narrative in a significant way. In 2013, there were 13 buildings constructed using mass wood timber. In 2021 that number skyrocketed to 576.
At 284 feet tall with 259 apartments, Ascent with its six-story concrete parking structure and concrete elevator core is four feet taller than the current wood building record holder, an 18-story structure in Mjøstårnet, Norway. The Ascent project has sparked other mass wood construction efforts in Milwaukee, including a 15-story apartment building nearby, as well as research and development for the project by area architectural schools and the USDA Forest Products Lab in Madison, WI.
"While the U.S. predominantly uses pine and douglas fir for CLT, we are using spruce, which provides a lighter and cleaner aesthetic," says Gokhman.
One unique aspect of the construction process involves first building Ascent digitally, down to the smallest of details, revealing any potential conflicts upfront. This eliminates time spent in the field resolving those conflicts, coupled with the offsite fabrication nature of mass timber, shortened Ascent's construction schedule by 4-5 months, though shortages of shipping containers caused delays of three weeks.
Tags: Ascent project, Milwaukee, New Land Enterprises, Tim Gokhman, Wiehag timber construction