AHEC introduces new website
&nbspTuesday, June 20, 2017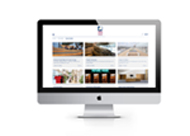 The American Hardwood Export Council (AHEC), the leading international trade association for the American hardwood industry, has launched its new website featuring innovative interactive tools designed to put architects and designers in the drivers' seat when it comes to specifying American hardwoods. The website's new look has been developed in line with feedback from users and structured to include a new interactive map of the United States' hardwood forests, an updated guide to American hardwood species (including new photography), a refreshed guide to grading sawn hardwood lumber (updated in collaboration with the National Hardwood Lumber Association), and an easy to use image, video and report library.
The new interactive forest map shows the distribution, growth and removal of American hardwood species from the whole of the United States down to individual counties. This technology presents accurate information in minute detail and visually demonstrates the true sustainability of American hardwoods. In addition, information on the sustainability and legality of American hardwoods, including research papers and comment from industry experts, can also be easily accessed on the website.
For those companies trading in American hardwoods, the American Hardwood Environmental Profile (AHEP) is an online tool that provides environmental impact data such as carbon footprint, forest replenishment time, acidification, and eutrophication for different species, lumber thicknesses and transport scenarios. AHEC members can now provide AHEP's for every consignment they export, especially since an increasing number of export buyers are demanding theses profiles to demonstrate the legal and environmental credentials of the lumber they buy.
The new easy-to-use illustrated species guide offers information on the appearance, machining properties, main uses, sustainability and availability of more than 20 American hardwood species. Users can select two species for a helpful, detailed side-by-side comparison. The site also features an industry approved, photographic grading guide that provides the perfect introduction to grading sawn lumber in accordance with the NHLA rules; the standard for the U.S. hardwood industry and for international trade. Users can select one of nine core species to see visual examples of each grade.
Users can discover the latest and most innovative examples of American hardwood use from large-scale architectural structures to fine furniture and joinery. The case studies feature shows the structural potential of American hardwoods from projects across the world. Examples include exclusive content from AHEC-initiated creative projects across the globe, as well as work from others that demonstrate the performance benefits of American hardwoods. A filter allows users to search for projects by species and region. The option to search for specific content types, such as videos, social media and case studies, is also available.
"The launch of our brand new, more user-friendly and informative online platform forms part of our commitment towards providing an easily accessible one-stop resource for a global audience comprising trade, manufacturing and specifier communities. This exciting new platform houses redeveloped tools to increase understanding and use of American hardwoods and will form a central hub for AHEC's creative projects, our research and reports into legality and sustainability and thought-provoking and informative blogs contributed by industry experts and trusted technical advisors," concluded Roderick Wiles, AHEC Director for Africa, Middle East, South Asia and Oceania.