American Wood Council Celebrates National Forest Products Week
&nbspTuesday, October 21, 2014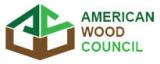 In recognition of National Forest Products Week (October 19 – 25), the American Wood Council (AWC) has released a statement about the sustainable benefits of wood materials and its important role in the U.S. economy. Currently, forest products support more than 1 million direct jobs and contributes $100 billion to the U.S. gross domestic product. And with the global marketplace for green building materials expected to reach $529 billion by 2020, support is growing for the use of wood in construction.
"The halls of Washington, D.C. have been echoing with support for wood as a building material. This encouragement coupled with the growing green construction trend illustrates the importance and recognition of the inherent benefits of wood building materials in construction," said AWC President and CEO Robert Glowinski. "National Forest Products Week is a time for us to celebrate and discuss the economic role of wood products in our country, as well as the function of sustainable forestry in mitigating the atmospheric carbon contributing to buildup of greenhouse gases."
As a leader in the North American wood products industry, AWC is providing resources for professionals to gather information on the important role of forest products. Activities encouraged by AWC in recognition of National Forest Products Week include:
• Greenbuild International Conference and Expo: As part of the wood pavilion at Greenbuild – the world's largest green building conference being hosted in New Orleans this week (Oct. 22-24) – the American Wood Council is discussing green building codes and environmental product declarations (EPDs) for wood products at the reThink Wood Showcase booth, #2539. With a recent shift for more prescriptive-based green building codes and rating systems, the EPDs offer a standardized format for building designers and construction professionals to convey how wood products perform based on life cycle assessment (LCA).
• Letter to Editor: Celebrating National Forest Products Week, AWC has developed a letter that can be submitted to publications and grow awareness for the environmental and economic benefits of wood products. The letter is available for download at http://www.awc.org/forestproductsweek.php, which supporters are encouraged to share with media.
• Social Media: Join others recognizing forest products this week by using the #CelebrateFP hashtag on Facebook and Twitter. Share how forest products are a valuable part of your daily life.