ASTM award conferred on AWC President Bradford Douglas
&nbspFriday, May 15, 2015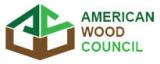 American Wood Council's (AWC) Vice President of Engineering Bradford Douglas has been awarded with the Merit and title of fellow from the American Society for Testing and Materials (ASTM) International Committee DO7 on Wood.
Conferring the award on Douglas, ASTM noted his leadership within organization and many technical contributions to the development of ASTM wood engineering standards.
"This award is an acknowledgement of how essential Brad is, not only to AWC, but to the entire wood engineering community," AWC President & CEO Robert Glowinski said. "An ASTM Award of Merit and designation as fellow is not granted lightly. We're very proud of Brad and his work, and congratulate him on this prestigious honor."
With more than 32 years of experience in the wood products industry, Douglas joined the AWC staff in 1986. He directs a program aimed at developing state-of-the-art engineering data, technology, and standards on structural wood products, systems and assemblies for use by design professionals and building officials to assure safe and efficient design and use of wood. Douglas received a bachelor's degree in agricultural engineering from the Virginia Polytechnic Institute and State University.
He serves on several standards development committees of organizations including ASTM, American Society of Civil Engineers and the U.S. Federal Emergency Management Agency's Building Seismic Safety Council. Since 1987, Douglas has also served on U.S. model building code committees for the legacy Southern Building Code Congress International and International Council of Building Officials, and more recently the International Code Council addressing proper design of wood buildings to resist high wind and seismic loads.
The Award of Merit was established in 1949 by the ASTM Board of Directors and is granted to an individual for distinguished service and outstanding participation in ASTM International committee activities. It is ASTM's highest organizational recognition for individual contributions to standards activities.
Tags: ASTM award, AWC, Bradford Douglas