AWC Applauds Final BioPreferred Program Regulations
&nbspTuesday, June 16, 2015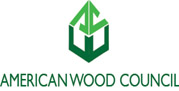 American Wood Council (AWC) President and CEO Robert Glowinski has issued the following statement regarding the final issuance of U.S. Department of Agriculture (USDA) BioPreferred Program regulations today. The 2014 Farm Bill states that forest products, previously considered to be ineligible because they were "mature market," are now eligible products to be recognized in USDA biobased programs.
Wood products are by their very nature biobased. The USDA BioPreferred Program now officially recognizes the innovative nature of wood products in the market today, including recognition of third-party verified Environmental Product Declarations.
"EPDs are the nutrition labels of the building products. Designers, builders and consumers now have science-based tools to determine the environmental impacts of a material. Wood products will often be found to have a smaller environmental impact because they are renewable, have lower emissions and embodied energy, are manufactured using a majority of biomass for energy needs and provide long-term storage of carbon." Said AWC President and CEO Robert Glowinski.
Tags: AWC, bio preferred program