AWC happy to invite House Select Committee on Climate Crisis Report
&nbspThursday, July 2, 2020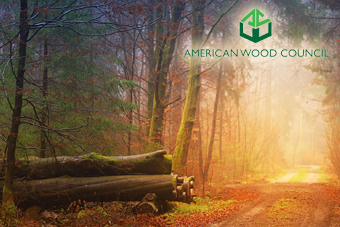 American Wood Council (AWC) President and CEO Robert Glowinski happily welcomes the House Select Committee on the Climate Crisis Majority Staff Report, and stated "Solving the Climate Crisis: The Congressional Action Plan for a Clean Energy Economy and Healthy, Resilient, and Just America."
"AWC welcomes the Select Committee's report and thanks them for engaging wood product manufacturers in their process. We look forward to further reviewing the report's recommendations and a bipartisan process to put forth policies to reduce the environmental impact of the built environment.
"As governments and the private sector seek to improve the environmental performance of buildings and reduce their carbon footprint, there is growing recognition that using wood from responsibly managed forests is part of the solution. Wood is a material principally manufactured using carbon-neutral biomass energy and having the unique characteristic of sequestering carbon for the life of the structure. As a result, greater use of wood in construction can contribute to reducing greenhouse gas emissions and help meet sustainability and energy efficiency goals in building projects."
AWC is one of the voice of North American wood products manufacturing, an industry that provides almost 450,000 men and women in the United States with family-wage jobs, many in rural areas. AWC represents 86 percent of the structural wood products industry, and members make
products that are essential to everyday life from a renewable resource that absorbs and sequesters carbon. AWC staff experts develop state-of-the-art engineering data, technology, and standards for wood products to assure their safe and efficient design, as well as provide information on wood design, green building, and environmental regulations. AWC also advocates for balanced government policies that affect wood products.
Tags: America, AWC, carbon footprint, environment protection, House Select Committee, timber industry, wood and furniture industry supply, wood and panel, woodworking and manufacturing