AWFS 2019: Celebrating Woodworking Excellence
&nbspWednesday, July 17, 2019
The largest trade exhibition for professional woodworkers Association of Woodworking & Furnishings Suppliers (AWFS) Fair is scheduled at the Las Vegas Convention Center July 17 to 20. More than 600 exhibitors will attend the AWFS Fair, about 18,000 industry professionals are expected to attend the trade fair.
AWFS Fair attracts participants from the entire woodworking industry, namely professionals who manufacture cabinets, millwork, furniture, store fixtures, windows, closets, components, doors and other wood products. It is an ideal platform to explore and exhibit the latest innovations in woodworking technology, and will offer hundreds of ideas and products to improve any woodworking business.
Opening up new vistas of opportunities:
AWFS Symposia presented by CCI Media and Woodworking Network, emphasized on providing an entire day of training just a day before the grand opening of the AWFS Fair. Training was conducted at four symposia, Finishing, CNC Technology, Closets, and Leadership. Ran from 9 a.m. to 5 p.m. on July 16.
The College of Woodworking Knowledge is the AWFS Fair's comprehensive seminar program. CWWK delivers a variety of panels, roundtables, demos and workshops in six different educational tracks.
The College of Woodworking Knowledge is the AWFS Fair's comprehensive seminar program. CWWK delivers a variety of panels, roundtables, demos and workshops in six different educational tracks.
AWFS attendees may easily create their own customized learning curriculum from the 50 sessions spread over three days. Experts within the industry will discuss how companies can help deal with the skills gap and change their own culture to attract and retain the talent needed to develop a skilled workforce.
AWFS will offer free seminars as a service to the industry. Seven free seminars related to workforce development, regulations and safety will be offered. Interested attendees needs to register to attend these free seminars at the fair ground.
Exhibiting innovative Technology:
This year at the AWFS, a special education program, SMART (Special Machinery and Relevant Technology) seminar combined lecture and technology demonstrations, live on the show floor before the show openned. From the newest concepts in nesting, edgebanding, and sanding, to Industry 4.0 implementation, the SMART! sessions provided an opportunity to learn from the technical experts at the show. Space was limited to 25 registrants in each session so attendees were encouraged to register early to ensure their place.
The AWFS Visionary Awards presentation to honor the best new products and innovations of the year is scheduled on Friday, July 19 at 9:15 a.m. Attendees will be able to participate in the Visionary New Product and First Time Exhibitor Product Showcase at the showfloor.
Wood Industry Innovations :
The Industry 4.0 Showcase will emphasize technology that will influence the future of manufacturing including artificial intelligence, augmented and virtual reality, robotics, and internet of things.
AWFS Fair Live will include a host of short, single focus topics including the latest technologies, hardware and software products.
Fresh Wood 2019 will feature more than 40 pieces of furniture. Here they will include works of the top high school and post-secondary woodworking students in North America. This year the special theme "Sports and Games" will feature furniture related to the theme.
WED Talks (Wood Education Talks), will present their fifteen minute session on Thursday and Friday by experts on social media, marketing, technology, skilled trades development and the future of the industry.
Display and Demonstrate corner:
The fair ground will provide a rare opportunity to the visitors where they will not only experience product demonstration, but will also get the opportunity to enjoy hands-on experience from the experts. The Thermwood Cut Center will be in action during AWFS Fair 2019 July 17-20. Attendees will have the opportunity to see how to run the Cut Center that can reportedly make almost anything a cabinet shop would want to make with no programming. Booth #7425.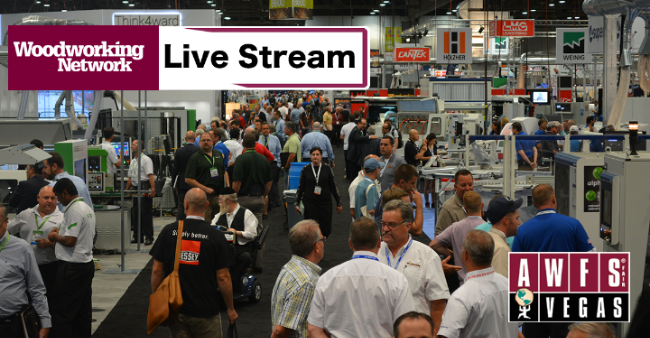 AWFS Fair attendees will also experience the All-American Work Cell in action from Safety Speed Manufacturing. They will be guiding the AWFS Fair attendees in making bookcases and donating them to a Las Vegas charity. Booth #8651.
Felder Group USA will unveil their profit H80 CNC full nesting machine system at the fair ground, displaying the product for the first time in the United States. Felder will also have on display their newly released Format – 4 Kappa 590 E motion double tilt sliding table panel saw. Booth #8625.
To accelerate participation and involvement in the fair, the organizers of AWFS this year are encouraging attendees to take part in the Quickscrews Drive to Win Contest. All show attendees have to do is drive five of the Quickcutter screws faster than the person next to them.
Booth #5702 Weima will once again be leading the effort at AWFS Fair to Destroy Responsibly, and attendees can follow the green carpet to experience the journey. Weima can be found in booths #8914 and #8116, as well as behind the tradeshow hall.
IMA Schelling Group USA will exhibit new technology at the AWFS Fair. IMA Schelling's Booth #7436 will display an IMA Novimat Compact L12 edgebander and a Barbaric LCV linear feeder system integrated with a Schelling s45 panel saw.
Vac-U-Clamp will offer no-cost thermofoil samples on the AWFS Fair show floor. If a visitor has something they would like to see foiled like a cabinet door or drawer front or something else, Vac-U-Clamp will do it at the show and at no additional rate. Booth #8081.
Thus, AWFS Fair 2019 will once again experience the range of innovations for four days at Las Vegas. With Industry 4.0 the manufacturers are gearing up to showcase new concepts and features in the machines and production unit that heavily influence the future of manufacturing.
Tags: AWFS Fair, edgebanding, las vegas, Wood Industry, woodworking event