AWFS announces judging panel for 2023 Fresh Wood competition
&nbspThursday, June 1, 2023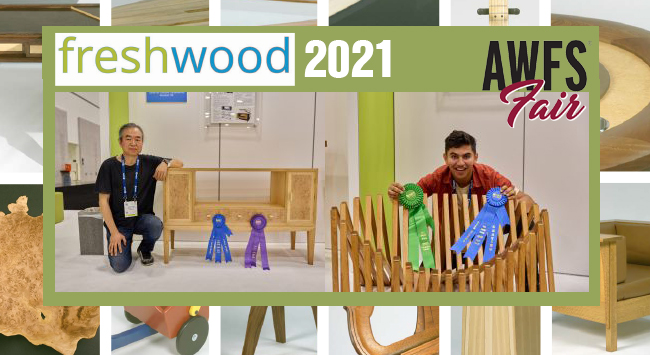 Association of Woodworking & Furnishings Suppliers (AWFS) is honored to announce the judging panel for the 2023 Fresh Wood competition. This year, 142 entries were received from high school and post-secondary students throughout the US and Canada. Forty projects from twenty different schools – ten high schools and ten post-secondary schools – have been selected for the final round of judging, which will take place at the AWFS®Fair in Las Vegas, July 25-28. The students and their instructors whose projects advanced to the final round are invited to attend the AWFS®Fair in person, with most of the travel costs covered by AWFS®.
Judging Panel Draws from Experience
The Fresh Wood Judges panel is made up of distinguished woodworking professionals from different sectors of the industry:
Ethan Abramson has been producing award-winning furniture since founding his company in 2008 – with pieces that can be found in homes, as well as varied stores and museums across the country. His work has been showcased in numerous industry leading magazines, newspapers, and TV shows.
Brian Boggs furniture designs have earned international acclaim. His furniture adorns the homes of other professional woodworkers, and artists of other disciplines. Brian's award-winning Lie-Nielsen "Boggs Spokeshaves" are enjoyed by furniture makers around the world, and his articles and instructional videos continue to help woodworkers.
Lois Snyder is CEO of Periwinklers, an architectural millwork company in Tarpon Springs, FL specializing in restaurants. As a craftsperson and small business owner, Lois works closely with designers and architects to help them achieve their intentions. She is hands-on with a broad set of skills including design, CAD, CNC programming, production, finishing, and installations.
Thomas Tuck has spent his career in the manufacturing and CNC router industry. Since 2015, Thomas has been a member of the C.R. Onsrud Team, specializing in furniture and marine. With a BS in Furniture Design and Manufacturing, and BS in Business Management from Appalachian State University, Thomas is a great asset for manufacturers in all industries.
With a Bachelor's degree in Furniture Design and journeyman's status in the Carpenter's Union, Jamie Ann Yocono has been designing and building furniture for four decades. Her work spreads throughout the globe, and she's taught for numerous organizations. In 2009, Jamie founded and ran Wood It Is! a community-based shop and woodworking school in Las Vegas.
Renowned Chairmaker Brian Boggs Makes the Best of Show Trophy
In addition to serving on the judging panel, Brian Boggs will provide the 2023 Fresh Wood Best of Show Trophy. The trophy will be on display at the Fresh Wood booth #2556 and will be presented to the winner at the student awards ceremony on Thursday July 27. The Best of Show recipient is selected by the judging panel from each category's first place winner.
From 1999 to 2013, the original Fresh Wood Best of Show Trophy was made by Sam Maloof and after his passing, Sam Maloof Woodworker Inc. In 2015, AWFS® invited master craftsman and marquetry expert, Paul Schürch, to design a trophy, which beautifully represented his trademark inlaid veneer style of work. In 2017, AWFS gave Garry Knox Bennett free reign to create something symbolic of his impressive body of work, with a nod to his famous Nail Cabinet. Judson Beaumont created the 2019 Best of Show trophy based off his iconic piece "The Apple Cabinet". In 2021, Scott Grove made a stunning one-of-a-kind trophy featuring bent veneer and a live edge.
Brian's trophy will be presented to the Best of Show winner at the Student Awards Ceremony, 4:00 p.m. on Thursday, July 27 at the AWFS®Fair in the AWFS®Fair LIVE Stage, Booth # 4780. All registered Fair attendees are invited to attend the student awards ceremony, where winners of the Fresh Wood student competition and the American Association of Woodturners' Turning to the Future student woodturning competition will be announced. No additional registration is required but seating is limited.
Fresh Wood Categories
In the preliminary round, students submit photos and answer questions about their piece for the judges to review. There are six different categories; Case Goods, Seating, Tables, Design for Production, Open, and the 2023 Special Theme: Small Projects. The judging panel scored the projects in areas such as Design Innovation on original pieces, Quality of Execution on reproduction pieces, Craftsmanship, Functionality, Construction, and Aesthetics. During the final round of judging at the AWFS®Fair, Fresh Wood Judges inspect and interact with the furniture to decide a winner in each category. Student information remains anonymous throughout the judging process.
Thank you to Fresh Wood Sponsors
Prizes are awarded in each category and at each school level for First Place ($1,000), Second Place ($500), and at the judges' discretion, an Honorable Mention ($250). The grand prize at the Fresh Wood competition is the Best of Show Award, sponsored by KCD Software, which comes with an additional $1,000 and a trophy. The People's Choice Award, sponsored by Panto Router, is presented to a Fresh Wood finalist whose project is selected by AWFS®Fair attendees via online voting and includes a cash prize of $750. The People's Choice recipient's school will also receive a Panto Router. Micro Jig will recognize teachers in Fresh Wood by donating a GRR-RIPPER 2GO 3D Push Block to each one.
The Fresh Wood student woodworking competition is free to enter. The objective of the contest is to encourage students to pursue further education and careers in woodworking and related fields as the industry faces shortages of skilled workers.
Tags: AWFS Fair, Freshwood competition, judging panel, woodworking and manufacturing, woodworking USA