AWFS Fair Exceeds all Expectations
&nbspWednesday, July 29, 2015
AWFS Fair closed its gates on July 25 with outstanding success for all parties concerned, featuring an impressive array of latest technologies and machineries and other aspects covering the woodworking and wood processing industry. From Day 1 itself, there was a huge turnout for national and international visitors!
Steve Waltman, vice president, marketing and communications, Stiles Machinery commented during the show, "It is exceeding all expectation, AWFS has done a great job! The timing is perfect for recovery!" Dan Murphy, the vice president of Sales, Weinig USA also added, "Everything seems to be improving." "We were pleased to see an increase of visitors, great interest in our entry level and complex automated solutions, and renewed enthusiasm from customers who visited our booth" said general manager of Cefla North America,  Massimo Di Russo.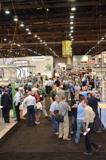 Addressing that quest for innovation, AWFS®Fair 2015 once again brought the entire global industry together for an in-depth review of the new developments and advances that are driving the market. Participants benefitted from high-quality educational programming in the industry (the College of Woodworking Knowledge®), a huge, expanded show floor that featured top suppliers and resources, and a variety of opportunities to network, learn and acquire the relevant information and strategies to help them grow along with their industry.
The eight exhibiting ‪AWFS Fair‬ companies that have been given a Visionary New Product Award for product innovation and leadership in the woodworking industry are: Weinig Holz-Her USA, SawStop, Schenk Ltd, Striplox, Vortex Tool Company, Inc, RSA Solutions, SurfPrep by Dixon Enterprises, Inc., and Next Wave Automation.
Tags: awfs, Cefla North America, Inc, Next Wave Automation, RSA Solutions, SawStop, Schenk Ltd, stiles machinery, Striplox, SurfPrep by Dixon Enterprises, Vortex Tool Company, Weinig USA