Biesse accolades Scott Brandenburg with Selci Circle Award
&nbspTuesday, June 26, 2018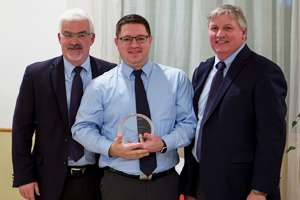 Biesse America is honored to announce Mr. Scott Brandenburg was presented with the prestigious Selci Circle Award at the company's world HQs in Pesaro, Italy.
The new Selci Circle Award was developed by Biesse to recognize top performing area managers for their achievements, not only in sales, but overall excellence in all aspects of territory management and commitment to our customers.
Biesse America Vice President of Sales, Randy Jamison, noted this new award is designed to acknowledge those who go above and beyond a number. "Far more than the sales achieved by Scott, his dedication and genuine passion are the true attributes of this year's winner."
"Scott is recognized as a leader amongst his peers. His professionalism and devotion to his customers, as well as all of us at Biesse America, are at the core of his success," Jamison said.