Biesse excited to meet Face-to-face at AWFS in July
&nbspFriday, June 18, 2021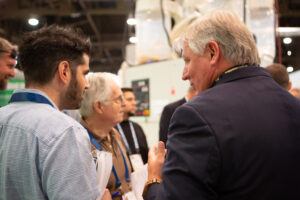 Biesse is ready to provide an unmatchable experience in Vegas this year! At AWFS, Biesse will present some of the most innovative technology available in the industry from affordable, high-quality entry-level machines up to the most technologically advanced solutions available for panel processing, solid wood manufacturing, plastic manufacturing as well as the production of non-ferrous metals and composite materials.
"We're excited to be face-to-face again at AWFS to personally demonstrate the new technology solutions developed by Biesse over the last 2 years!" Mike Johnson Biesse America VP of Wood
Product specialists will be on hand to explain the latest trends and technology designed to reduce setup time and increase productivity and we will also have a dedicated area for demonstrations on the innovative SOPHIA IoT, bCabinet and bSolid software that takes you from concept to design in just a few clicks!
Virtual Reality – not just for gaming anymore
Virtually experience live tours of robotic installations without ever leaving the Biesse booth! Join Biesse and our robotic solutions partner AutomaTech Robotik in Biesse's booth for an augmented reality tour of manufacturing plants realizing the strength of this partnership during AWFS! Take advantage of this unique interactive opportunity to experience automation in real time and see what the future can hold for your production.
Introducing Robotics into your Operation
Hear from a closet and cabinet manufacturer who took the leap into Industry 4.0 by purchasing the Biesse Selco ROS robotic saw. They were the first in North America to bring this saw into the country. Learn about the process from selection to installation to implementation and receive tips from a machinery supplier on how you can get started on this journey.
Products on display includes  CNC Woodworking Machines, Panel Saws, Edgebanding Machines, SINGLE-Sided Edgebanding Machines, Wide Belt Sanders, CNC Drilling And Milling Machine.
Tags: AWFS Fair 2021, Biesse, las vegas, woodworking and manufacturing, woodworking event, woodworking industry, woodworking technology, woodworking USA