Bioluma Sawmill grade optimizer installed by USNR
&nbspMonday, September 18, 2023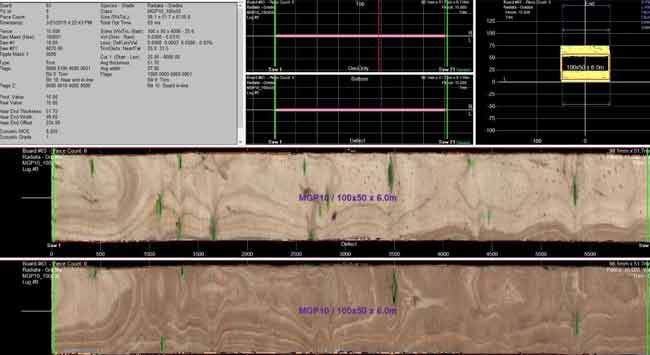 USNR has installed a new Bioluma sawmill grade optimization system at High Country Lumber and Mulch. This will offer improved output using this highly configurable system. High frame rates and high-resolution images create stunning visual images and precise geometric measurements, which can then be processed through the optimization system to give extremely accurate grade processing solutions quickly. This is particularly important in hardwood trimming applications where correctly identifying each defect can substantially increases product value.

"Day after day, we see good wood going to the chipper based on our current optimizer's decisions. The intent is to keep that wood and the dollars it represents in our pocket and not in the chip pile." Scott Greene, Mill Owner, High Country Lumber and Mulch

USNR is proud to work with High Country Lumber and Mulch on continued efforts to improve their mill.
Combining color vision technology with high density geometric scanning, the Bioluma sawmill grade optimizer offers sawmills the highest value optimized decisions with grade and recovery performance. Designed for transverse edgers and trimmers, Bioluma makes value decisions driven by the accurate detection of biological and geometric defects using a combination of laser profile and visual defect scanning, combined with state-of-the-art optimization. The popularity of this technology is proven on several continents with a variety of species and wood markets worldwide.
Increased grade, recovery and value
Applying Bioluma grade optimization technology in the sawmill increases your finished grade outturn and recovery, thereby increasing your total value.
Edger grade extraction provides value through re-manufacture or rip based on the ultimate grade of the wood. For example a #3 appearance due to knots can be edged to wane with confidence, which maximizes recovery. Likewise, a low grade 2×8 may be worth more as two 2×4's, one of them being high grade.
Trimmer grade extraction lets you cut-in-two allowing a short, high grade piece without trimloss. 'Candidate' trim stock meeting specified characteristics for wane and knots can be targeted and sorted/routed differently for further unique action downstream. For example, by sorting for grade at the trimmer, you can select more appropriate drying cycles for high or low grade products.
Tags: Bioluma sawmill, sawmill, USNR, wood, wood and panel, woodworking, woodworking and manufacturing, woodworking industry, woodworking USA