Blum to display 'moving ideas' at 2020 SIBO
&nbspWednesday, November 20, 2019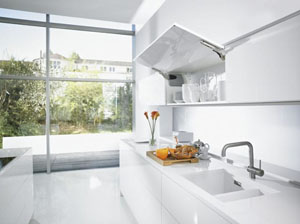 Blum always loves to experience and explore. They not only consider whether idea is feasible, but also what benifits is to the customer. Because, it is not just their ideas, it is about making one's reality. Blum puts their heads together to develop future-oriented solutions that best meet one's needs.
Several of the products Blum Canada will display at the 2020 Salon Industriel du Bois Ouvré (SIBO) were developed on the company's new brand promise of "moving ideas." By conducting surveys of cabinet and case goods manufacturers to identify trends, the Austrian manufacturer of fittings is incorporating its customers' input to deliver new solutions to the market.
Following are three examples of new Blum products shaped by listening to customer needs.
AVENTOS HK
Pros appreciate the stay lift as an ideal solution for fitted units with heavy fronts. Fronts pivot up so very little space is needed above the cabinet. AVENTOS HK opens up and out of the user's way so it can be left open during cooking.
EASYSTICK
EASYSTICK is the new automatic stop system that makes it easy to set up drilling and insertion machines. It optimises the entire assembly process, giving you fast and simple machine set-up and perfect results. Drilling positions are calculated digitally, stops move automatically to the right position and you are shown the correct fixing positions step by step. Position panel, drill holes, done!
EXPANDO T
This new fixing method is impressively easy to use. Fronts are assembled in just a few steps. Drill, insert and tighten screws. That's it. And to make things even easier, the same fixing system can be used for three different applications: wall cabinets, doors and pull-outs.
It's the combination of two materials that provides excellent retention forces. Steel teeth bite into the material of hard fronts to achieve a secure hold, and nylon components ensure firm anchorage in soft panels.
Tags: 2020 Salon Industriel du Bois Ouvré (SIBO), AVENTOS HK, Blum Canada, EASYSTICK, Expando T., moving ideas, new brand promises