Canadian Wood launches webinar "Born in Canada, Made in India"
&nbspThursday, March 25, 2021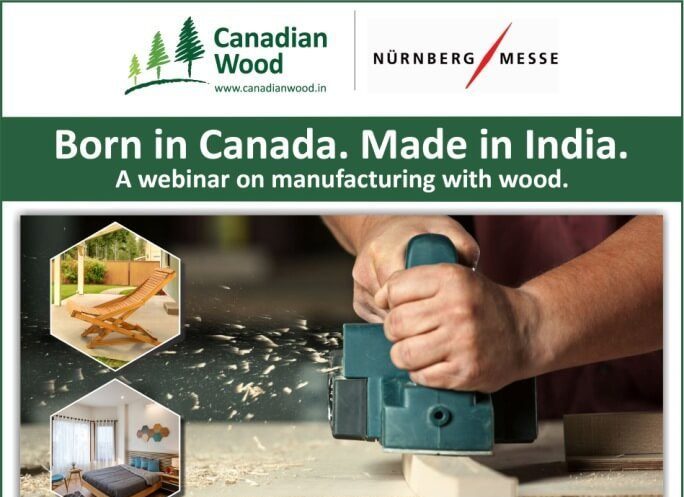 Canadian Wood presented the webinar titled, "Born in Canada, Made in India" based on manufacturing with wood on March 24, 2021. Among the key speakers included some of the leading Indian wood manufacturers such as Bhawna Sharma, Artius Interior Products Pvt. Ltd.; Soma Singh Roy, Bramola; and Thomas Markose, Kelachandra presented their insights. Their presentations covered the use of wood for high-end doors, frames, window systems, engineered door frames and contemporary and ethnic-based furniture.
Canadian Wood organised an insightful session by with the leading wood product manufacturers on a range of applications. The virtual event on March 24 presented insightful information on the use of wood for various purposes such as timber in construction, production of advanced high-end doors, doorframes and window systems, wood coating, biobased and sustainable wood solutions. One of the leading wood working professionals, Bhawna Sharma from Artius mentioned that, Timber has limitless possibilities and Timber will not be a limitation in the construction industry, however glass and steel may be the ones with limited scope of working. She also added the superiority of Canadian woods among other timbers in the market and Yellow Cedar or the Canadian softwood as one of the finest for crafting building with wood.
Soma Roy from Bramola handcrafted furniture, on the other hand stated the reasons for selecting Hemlock wood among other Canadian woods and how Hemlock is a preferred by the craftsmen for handcrafting and designing artistic furniture. Roy further added that Canadian Hemlock wood is the most suited species for hand painting and intricate designs on bedroom furniture. It is this characteristics that encouraged Bramola to blend Indian artistic design and motifs on wood carving and present the most iconic interior furniture at the global platform.
Among the other speakers Marco Mancini, Renner Italia SPA; and Pankkaj Bassi, ICA Group, Thomas Markose, Kelachandra presented their experience of working in the Indian wood market and mentioned the role of Canadian wood in this part of the world wood market.
Canadian Wood has been consistently engaged in promoting wood in a variety of applications through its series of webinars. These virtual sessions have been the constant ground for knowledge sharing by several woodworking professionals in India and abroad, including architects, designers, builders, developers, structural engineers, contractors, manufacturers, PMCs and hospitality industry professionals.
Tags: Born in Canada, Canadian wood, Made in India, woodworking and manufacturing, woodworking Canada, woodworking industry, woodworking webinars