Canfor curtails its Intercontinental Pulp Mill
&nbspTuesday, December 20, 2022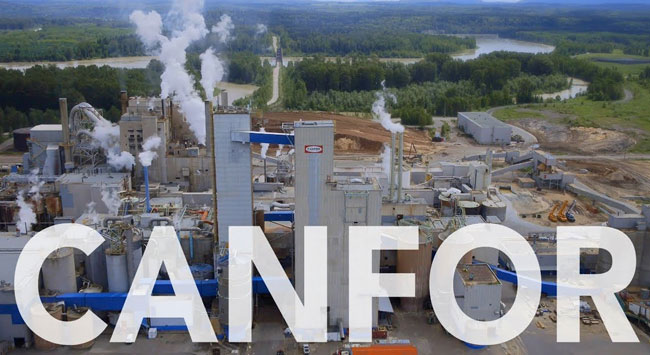 Canfor Pulp Products Inc. has released a statement of curtailment of its Intercontinental Pulp Mill with immediate effect, expected to be in place for four weeks. The reduction is brought on by sawmill closures, which have reduced the supply of economic fiber. Approximately 24,000 tonnes of market kraft pulp will be removed during the outage.
"The sawmill curtailments occurring in BC are materially reducing the residual fiber available for pulp mills. Based on the near-term fiber outlook, we have made the difficult decision to temporarily curtail Intercontinental Pulp Mill," said Kevin Edgson, President & CEO, Canfor Pulp. "We regret the impact the downtime will have on our employees, their families, our suppliers and the community. We are working to support them through this time."
The Company will keep a careful eye on the availability of fiber, and it will modify its operating rates as necessary.
With four mills in British Columbia—three in Prince George and one in Taylor—Canfor is one of the top suppliers of pulp and paper goods on the international market. The northern forests of British Columbia generate some of the best pulp and paper-grade trees and fiber. White spruce, lodgepole pine, and alpine fir trees develop slowly due to the climate, producing long, slender, flexible, and robust cellulose fibers. Canfor's pulp is renowned for its exceptional strength and quality, and the company is well known for always enhancing its operational and environmental performance.
Canfor produces specialist unbleached and bleached chemo-thermo mechanical pulp in addition to northern bleached softwood kraft (NBSK) pulp, which accounts for the majority of their output. Canfor's pulp mills are genuine bio-refineries, minimizing waste and ecological effect while producing high-quality pulp and paper products and green energy for their own operations and for sale to consumers.
Read more news on Canfor
Tags: Canfor, Canfor Pulp Products, fiber, Intercontinental Pulp Mill, Pulp Products, wood, woodworking, woodworking and manufacturing, woodworking event, woodworking industry, woodworking USA