Cefla advances finishing system
&nbspMonday, August 8, 2022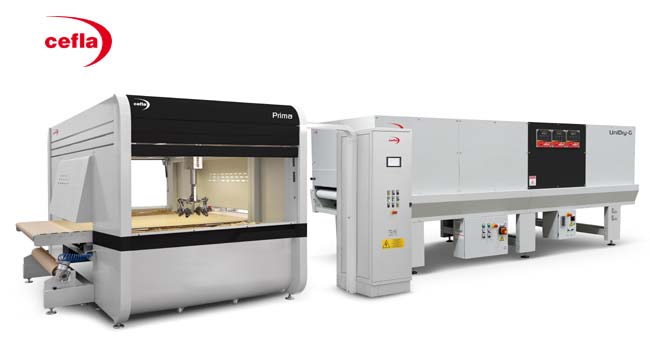 Cefla's automated PRIMA + UNIDRY-G WORK CELL, which sprays and dries parts with minimal labor while maintaining the highest quality. This compact finishing system produces touch-dry parts that can be handled right out of the oven.This powerful and efficient system allows you to see immediate results in improved transfer efficiency, quality, consistency, and production volume.
Prima Reciprocating Spray Machine, With Pressurization
The Prima's excellent transfer efficiency abilities can take your spray game to new heights as the first step towards automated spraying! The Prima is equipped for shops of all sizes with the optional pressurization feature. Pressurization may not always be necessary for the finishing process; however, it brings a strategy for future growth with in-line add-ons such as automated cleaning and drying technology.
UniDry-G Drying Technology
This compact drying technology is powered by propane or natural gas and can dry parts 6-8x faster than traditional convection and IR drying systems. It can work as a stand-alone unit or in line with other automated coating technologies and is made in the USA. It is compatible with wood, wood-based derivatives, metal, fiberglass, fiber cement, and many other products suitable to be finished on a flatline.
Cefla provides solutions for shops of all sizes for a wide range of finishing applications.
Tags: CEFLA, IWF Atlanta, woodworking, woodworking and manufacturing, woodworking event, woodworking industry, woodworking USA