Clemens Heinrici is designated as President and CEO of Hettich
&nbspSaturday, October 3, 2015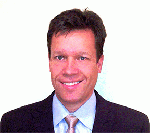 Hettich North America announced the appointment of Clemens Heinrici as President and CEO. The appointment was effective from September 1.
Heinrici has a successful track record in sales and management with a variety of U.S.-based divisions of German companies. Since 2008 he has been the CEO of the Haewa Group in the metalworking industry. Prior to that he was Vice President Sales and Marketing with Koch Machinery & Systems, a mechanical engineering company for the furniture industry.
He has also been General Manager of Ultrafilter GmbH, a filtration products manufacturer. With a degree in Process Engineering. Heinrici's marketing and sales expertise is complemented by his technical background.
Tags: clemens heinrici, hettich north america, president and ceo