Conestoga introduces new Finish Options for 2016
&nbspTuesday, February 9, 2016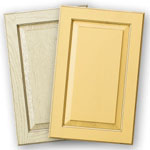 As a leading manufacturer of custom cabinet doors and wood cabinet components Conestoga is pleased to announce the addition of Unitones, their newest finish option.
Adding to their growing list of versatile finishes and glazes, Unitones offers customers a subdued version of the rustic, weathered look created by Conestoga's Heirloom finish treatment. This new finish is a combination of a single coat of Colourtone that allows wood grain to telegraph through the surface coating, which is then highlighted with a glaze application.
Unitone finishes are available on rustic and standard grades of alder, cherry, hard maple and red oak, and it includes a glazing step using Coffee or Pewter glaze. Other available options include:
• Antiquing
• Wear Sanding
• Distressing
"We are looking for ways to grow our repertoire of finish offerings and continue to meet customer's needs," says Jeff Eichenseer, marketing director, "Unitone was created in direct response to customer needs, and we're always eager to listen to their feedback to offer better products." Eichenseer remarked.
The enhanced grain telegraphing created by Unitone is most prominent on end grain and is highlighted by Coffee or Pewter glaze.
The finish creates a dramatically different look when applied to each type of wood. For customers looking for prominent telegraphing, the effect is most pronounced on oak, but also has visible effect on cherry and alder wood substrates.
Tags: conestoga, custom cabinet doors, newest finish option, unitones, wood cabinet components