CORAL announces the FM10 Ready Dust Collector
&nbspMonday, July 16, 2018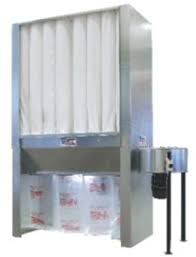 CORAL S.p.A. of Italy and Atlantic Machinery Corporation in New Milford, CT has recently announced an advanced, state-of-the-art dust collector in their product offerings. Called the FM10 READY, this new dust collector will be showcased in Atlantic Machinery's IWF booth.
The FM10 READY is a 10hp 5000 cfm indoor dust collector with a total filtration area of 510 sq. ft. It is in full compliance with the latest NFPA rules & regulations. With its space-saving design, high performance, and extremely low noise level, the FM10 READY is the most affordable and practical solution for your wood dust extraction needs.
With many hundreds of portable and stationary dust collectors, plus spray booths, cartridge filters, and down draft tables in the field, Coral has become a household name in the woodworking field. Their innovations have made them an undisputed leader in the industry.