CPA declares Environmental Protection Declaration for EWST
&nbspMonday, September 12, 2016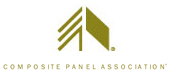 CPA is pleased to announce the completion of the industry-wide Environmental Product Declaration (EPD) for North American hardboard and engineered wood siding and trim (EWST).  This EPD was verified by UL Environment based on the life cycle assessment (LCA) of hardboard and EWST conducted by the Consortium for Research on Renewable Industrial Materials (CORRIM).
The EPD is a cradle-to-gate assessment, meaning it includes LCA results for all processes up to the point that hardboard and EWST is packaged and ready for shipment.
EPDs enable comparison between like products (e.g., different types of hardboard/EWST) but do not allow for comparisons against other material choices (e.g., other types of siding).  Other available industry EPDs include particleboard and medium density fiberboard (MDF).