DMT to debut Three Made In America Products
&nbspFriday, February 20, 2015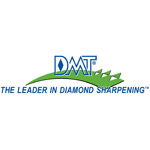 Diamond Machining Technology (DMT) is proud to announce the international debut of three products with its proprietary HardCoat™ surface sharpening technology at IWA Outdoor Classics 2015 in Nuremburg, Germany. Originally introduced on the company's DiaFlat lapping plate, the HardCoat surface provides the extra durability needed for long-term sharpening of ceramic or steel knives.
Ceramic blades are all the rage, but present a bit of a conundrum. While harder than the hardest steels, they're also delicate and more prone to nicks and dings. And there's a popular misconception that ceramic knives don't need sharpening but, in fact, they do lose their edges slowly over time. While all DMT sharpeners can handle the hardest materials, including ceramic, the company is taking it to the next level with its proprietary HardCoat surface. This technology offers the toughest and longest-lasting diamond surface ever, making it especially suited for the rigors of sharpening ceramic knives as well as the hardest steel blades.
The premium HardCoat surface is now available on three of DMT's most popular and versatile products:
• 8-inch DuoSharp HC Sharpener with Base (Extra-Fine/Fine grit combination; Model W8EF-H-WB)
• 12-inch Diamond Steel HC Sharpener (Fine grit; Model DS2F-H)
• Diafold HC Double-Sided Sharpener (Extra-Fine/Fine grit combination; Model FWMEF-H)
Like all DMT products, these premium sharpeners—in the HardCoat white design—will produce excellent, consistent results time after time, year after year. Best of all, they're Made in the USA and backed by DMT's commitment to quality and customer satisfaction.
In 2014, DMT received the President's "E" Award for Exports, the highest recognition any U.S. entity may receive for contributing to the expansion of U.S. exports. DMT distributes to 37 countries and, for more than 30 years, has presented its full line of tools for hunting, fishing, camping and more at IWA.
Tags: Diamond Machining Technology, DMT, HardCoat