EGGER installs the best in IWF
&nbspMonday, September 5, 2016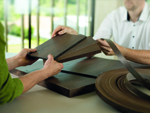 At the IWF 2016, EGGER is forthcoming and, as usual, innovative. The outstanding architecture of the 80 m2 trade fair booth perfectly displays decors, textures, and materials. The entire trade fair presentation follows into the footsteps of the EGGER company culture as a modern, international, but nevertheless approachable family-owned company. Trade fair visitors discover on the booth all aspects of the EGGER product and service world, including decors, colors, textures and practical applications.
A main theme of the EGGER trade fair booth is the coordinated decor and material match–a unique selling point, even in the USA, for the wood-based materials manufacturer. Many decors are available on the most diverse core materials. EGGER supplies the desired decor on Thermally Fused Laminate Panels or MDF boards, on lightweight boards, or on compact laminates. ABS edging with the same decor and texture complete the product portfolio. "Customers no longer need to worry about which supplier provides what product and whether the decors fit together. They get everything out of one hand, and are thus able to work carefree and well advised." explains Georg Prager, Commercial Director Sales and Marketing Overseas at EGGER.
PerfectSense lacquered boards: High-end surfaces with a new quality level
One highlight EGGER showed at the IWF is its multi awarded PerfectSense product category. Since its market launch in September 2015, the Matt and Gloss lacquered boards have attracted architects and suppliers to the same extent. High-gloss or velvety matt, PerfectSense is the ideal highlight for furniture pieces and interior design. The wood-based materials manufacturer uses this product to promote its thermally fused panels as well as the look and feel of surface textures to a new quality level.
PerfectSense lacquered boards represent a new innovative category among wood-based materials. The thermally fused MDF core boards are manufactured using a sophisticated lacquering process that is matched with precision to the surface.The special coating procedure with CCI technology was developed by EGGER in cooperation with Hymmen. Thanks to this innovation, it is possible to connect visual perfection with a tactile effect and create extremely high-quality surfaces in the Gloss and Matt versions.
PerfectSense Gloss captivates with its exceptional depth effect and surface calmness. It stands out significantly among other high-gloss surfaces. PerfectSense Gloss is best suited for kitchen fronts, high quality furniture structures and interior designs.
Conversely, PerfectSense Matt follows the trend towards a matt look. The surface has a warm and velvety feel, bringing sight and touch together in perfect harmony. Equipped with antifingerprint properties, PerfectSense Matt represents high value and is used especially in the upscale furniture sector and for exclusive interior designs.
The refined surfaces of PerfectSense lacquered boards are micro scratch and impact-resistant, making them ideal for high mechanical stress. In order to guarantee further processing without problems, a protective foil is applied to the surfaces for transport purposes. This provides security to the fabricator when using this product and guarantees customers the long-term enjoyment of perfect surfaces. Since 2015, the EGGER distributorcollection has included six decors in Gloss (H3025 PG Macassar, U999 PG Black, U323 PG Chilli Red, U763 PG Pearl Grey, U104 PG Alabaster, and W1000 PG Premium White) and seven decors in Matt (U999 PM Black, U702 PM Cashmere, U222 PM Crema, U727 PM Stone Grey, U732 PM Dust Grey, U708 PM Light Grey, and W1000 PM Premium White). The tried and tested EGGER MDF board is used as core material in the cut-friendly format 2800 x 2070 and thicknesses of 18 and 19 mm.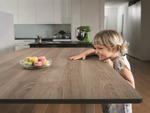 Feelwood: Naturally striking and authentic
EGGER gives surface textures the same importance as decors. EGGER meets the need for naturalness and authenticity with its Feelwood synchronized pore surfaces. They represent the perfect interplay of decor and surface texture. This striking deep structure is perfectly synchronized with the pattern of the matching woodgrain decor. Naturalness and the authentic appearance of wood are trends that are gaining ground particularly in the living areas. EGGER now also brings this trend into the kitchen with the first color coordinated laminates knownas synchronized pore used on worktops. The new Feelwood Rift ST37 surface with its striking texture, perfectly synchronized with the Rift Oak decor, brings the feeling of real wood to the worktop. In comparison with natural wood boards, the Feelwood worktop innovations from EGGER have an invaluable advantage when it comes to care: they are robust and easy to clean.
Thanks to EGGER, clear lines also enter the kitchen: The front edge of the new Feelwood worktop surfaces can be processed with a matching end-grain edge. It looks like a tree trunk cut crossways with visible growth rings, underlining the appearance of wood.
Colored Core Laminate
EGGER allows limitless design freedom with the new colored core laminates. Regular laminates have a black or brown core. The solid-colored look of the new laminate generation is created by multiple layers of impregnated decor papers of the same color. In this way, colored applications with a solid look can be achieved without visible impact edges and joints. Architects and fabricators are able to place accents where they are wanted. Using the colored core, the laminate edge can also be emphasised as a design solution. The colored core laminate enables an even color gradient. This flawless, solid look is particularly in demand for frequently used worktops and tabletops, cabinet fronts and sides, shelves and door panels – and, last but not least, in shopfitting and trade fair construction.
The wood-based materials manufacturer uses the EGGER POS to show its new "brand in space" concept at the IWF trade fair booth. It represents the spatial expression of how advice and sales can be successfully structured in contact with customers – not only from a tactile point of view, but also regarding atmosphere. It generates emotions, and has an inviting and positive effect.