Element Design to showcase shelving solution with e Shelving at IWF
&nbspThursday, August 16, 2018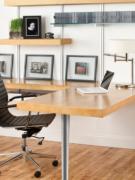 e Shelving is part of the new Element Designs' Shelving Program which brings modern European-inspired shelving solutions to the woodworking industry.
e Shelving is made of simple wall standards and elegant yet sturdy shelf brackets. The easy-to-install system attaches directly to virtually any wall surface with individual shelf capabilities which can exceed 150 lbs per shelf.
The system can be used with shelves made of virtually any material including glass, wood, metal and more. The innovative brackets can also be used to create floating shelf applications. The metal components come in a variety of standard finishes to create stylish storage solutions for living areas, office environments, closets, kitchens, garages, etc.