Element Design unveiled new virtual showroom at AWFS 2017
&nbspTuesday, August 22, 2017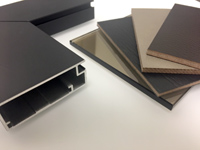 Element Designs was excited to preview their new virtual showroom AWFS Fair 2017 in Las Vegas, Nevada from July 19 to 22.  Attendees got a glimpse of their new virtual showroom tool which greatly has changed the way cabinet shops, designers, and homeowners interact with their products.
As the industry evolves and the way products are researched and ultimately purchased changes, Element Designs believes strongly in the role technology plays in today's marketplace. As tech savvy homeowners and designers spend more time on the internet researching materials and products, they want to give them a tool to help them visualize a space which combines traditional materials with contemporary aluminum, glass and acrylic products by Element Designs. The initial kitchen design is expected to be the first of several virtual rooms.
Element Designs is a manufacturer of aluminum, glass and acrylic casework components and surfacing materials in North America. Their aluminum frame cabinet doors options include eleven frame profiles, seven finishes and over fifty inserts for custom door combinations that transform any environment. Element Designs' program offerings also include contemporary product such as high gloss PARAPAN® solid surface doors, backpainted glass, aluminum frame base systems and table bases, °eluma LED shelving and more.