Element Designs features Salice AIR Hinges
&nbspTuesday, August 22, 2017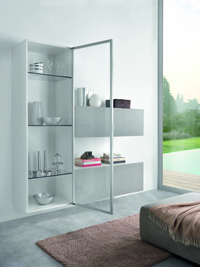 Element Designs formally launched their new integrated hinge door program featuring Salice AIR hinges at AWFS Fair 2017 in Las Vegas, Nevada. The show was held July 19 to 22 at the Las Vegas Convention Center.
The new integrated hinge doors incorporate the hinge hardware into the actual door itself, making it completely unobtrusive to the eye. Integrated hardware is especially important when using transparent glass doors because the cabinet interiors are visible at all times. The new hinge technology changes the design possibilities when it comes to glass cabinet doors which is important as glass cabinet doors continue to grow in popularity as contemporary design continues to grow. The innovative technology incorporates Salice AIR hinges into the cabinet door and cabinet itself in a radical departure from typical European concealed hinges.
Element Designs' new integrated hinge doors, as well as all of their products, can be purchased through their network of reputable distributors located across North America.