Elmia Wood to focus on 'Drones' for forestry sector
&nbspMonday, February 27, 2017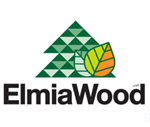 At this year's Elmia Wood on June 7 to 10, the unmanned aerial vehicles will have their own separate section called the Drone Zone. The fair is collaborating with UAS Forum Sweden, which arranges Sweden's leading conference in the field, and which is assembling experts and suppliers for the fair.
"I hope visitors to Elmia Wood will go home having realised that drones are not a futuristic vision but are mature technology ready to be used in the forest industry." So says Hans Thunander, a certified forester who is already working with drones in the forest.
"There will be presentations and shows several times each day," explains Urban Wahlberg of UAS Forum. "The exhibitors will be leading suppliers of applications and equipment." Urban added further.
Drones are not completely new at Elmia's forestry fairs. Hans Thunander says futuristic technology was exhibited at the previous edition of the fair to inspire the forest industry to think of new applications for the drones. Now they are a mature tool ready to be used.
"To me a drone is like a pair of binoculars that can see around corners," he says. "It's just as natural an aid as the other technology we're already using." Urban concluded.
Survey larger areas
Drones are strongly associated with camera surveillance but that is not their purpose in the forest. Instead they are used to gain an overview of larger areas. Using various types of sensors they can find windthrow, monitor stressed trees, count game and so on.
"Just imagine not having to walk and drive through large tracts of land after a storm," Thunander says as an example. "With a drone you can concentrate your efforts on where the damage is."
Because Elmia Wood is held out in the forest, the drones can be demonstrated in realistic conditions. The Drone Zone is located along Elmia Wood's large-scale forest trail. Visitors can see with their own eyes the practical benefits of using drones.
"The fair is designed to be the place where the international forest industry discovers the latest technologies and applications," says Jakob Hirsmark, Exhibition Manager for Elmia Wood.
"Drones are becoming an ever-more important part of forestry within the immediate future and that's why they have a self-evident place at the world's biggest forestry fair." Jakob concluded.