ElmiaWood to showcase trendiest innovations in 2017
&nbspFriday, January 27, 2017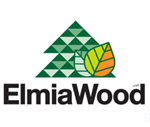 Sweden and the Nordic region are global leaders in forestry technology but North America is the place that fells the most trees. Yet Elmia Wood 2017 is the year's biggest forestry event.
"It's at Elmia that you see the trends and where they're heading," explains Rob Stanhope, editor of the Canadian forestry magazine Logging & Sawmilling Journal.
Canada is the world's second-biggest country by area. In Rob Stanhope's coverage area alone, the province of British Columbia, 60 million cubic metres of timber are harvested annually, compared with 85 million in all of Sweden. In Canada as a whole the figures are 200 million, and in the US 480 million cubic metres.
The forest industry in British Columbia differs from that of the Nordic region. The forests there are largely owned by the government, which sells felling rights. The areas are so large that to date no one has bothered much to do any thinning. Instead, they just come back after 100 years or so to log the area again. The dominant method is whole stem, using machines like feller bunchers and skidders. Some areas are so steep that cable systems are required. But many different types of machines are used in Canada, which is why Rob Stanhope has reported from every Elmia Wood since 1993.
"The trade show is the meeting place of the international forest industry. I can even meet decision makers from Canada and the US there that I can't contact back home," Rob concluded.
Nordic forestry practices have become more relevant due to more stringent environmental and climate regulations. The greatest interest is in Sweden's forestry IT solutions. Canada's far-reaching forests without cellphone coverage mean the country lags in this respect, but it is catching up by using satellite-linked forest machines.
Canada spans six time zones, and forestry conditions in the eastern part of the country are more like those in the Nordic region. In the east, the cut-to-length (CTL) method is now widely used. As a result, new harvesters, forwarders and other CTL technology are of great interest to readers of the Ontario-based forest magazine. The next edition of Elmia Wood will run from June 7 to 10, 2017. The venue is in the forest south of Jönköping, Sweden, where new machinery and equipment are not only presented but also demonstrated in actual use.