FANUC America debuts high-payload Cobots and at Automate 2023
&nbspTuesday, May 23, 2023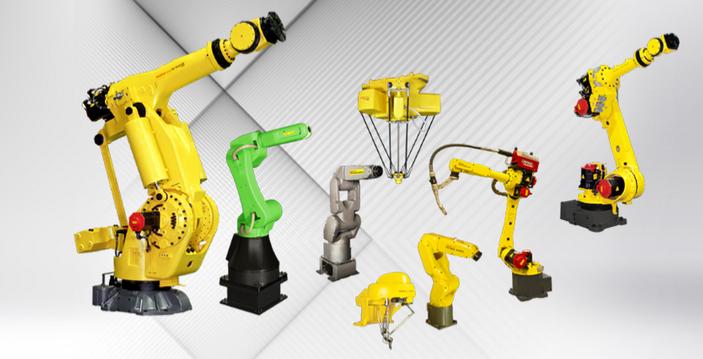 FANUC America debuts high-payload Cobots and display automation solutions at Automate. FANUC America introduces high-payload cobots and demonstrates industry-leading automation solutions at Automate 2023.
FANUC America, one of the world leaders in CNCs, robotics, and ROBOMACHINEs introduces two new high-payload capacity collaborative robots, and demonstrate a wide range of automation solutions at Automate 2023 slated in May 22-25 in Detroit.
Cobot Zone Featuring Higher Payloads
FANUC has expanded the payload capacities of its CRX and CR cobot lines to handle products from 4 to 50kg. FANUC now has 11 cobot model variations that can work in a variety of industrial applications including assembly, inspection, material handling, packaging, palletizing, sanding, welding, and more.
"Our collaborative robots are easy to use and flexible solutions for companies looking to enhance productivity and solve labor issues," said Eric Potter, General Manager, General Industry and Automotive Segment, FANUC America.
FANUC CRX-25iA Cobot: New 30kg Payload Capacity
The CRX-25iA cobot will demonstrate its enhanced 30kg payload capacity by easily handling a 30kg kettlebell with full wrist articulation.
A second CRX-25iA equipped with the FANUC Servo Torch will showcase its powerful capacity and long 1,889mm reach in a hands-on welding demonstration to highlight easy lead-through-teaching of welding joints on a lawn mower deck.
FANUC CR-35iB Cobot: New 50kg Payload Capacity
FANUC's CR-35iB is the industry's strongest collaborative robot featuring a new 50kg payload capacity, a large work envelope and a small installation footprint which works well in small spaces. A streamlined and lighter mechanical unit includes FANUC's latest sensor technology for safety.
"We're highlighting a flexible infeed system which is key for customers looking to increase production rates," said Christian Stevenson, Material Handling Engineer, General Industries and Automotive Segment, FANUC America. "FANUC's integrated 3DV iRVision provides that level of flexibility by precisely locating randomly placed parts."
CRX Order Fulfillment, Bin Transfer and Shelving
Visitors using a Tablet TP will select from a variety of consumer items to pick orders. One of two CRX-10iA cobots with an iRVision 3DV/200 vision sensor mounted on its arm scans QR codes on a shelf to confirm that correct products are picked, and scans the items to transfer them to a bin on a table.
FANUC CRX-10iA Assembly with the Power Motion i-Model A
Other innovations include:
FANUC CRX-10iA Assembly with the Power Motion i-Model A
FANUC CRX-10iA Deburring, Kitting and Interactive Programing
FANUC R-2000iC/165F – Realtime Visual Tracking
FANUC M-1000iA Robot – Battery Assembly
LR Mate 200iD/7LC and SR-6iA/C Robots: Breakfast Sandwich Assembly
SCARA Robot Demonstration
Robotic Painting with Visual Tracking
Tags: Automate 2023, automation, Cobots, FANUC America, wood, wood and panel, woodworking, woodworking and manufacturing, woodworking event, woodworking industry, woodworking USA