FANUC demonstrates automated woodworking solutions at IWF Atlanta
&nbspWednesday, July 20, 2022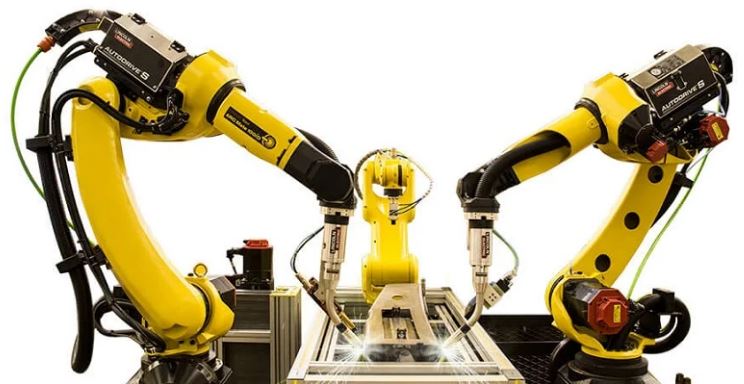 FANUC America, one of the world leaders in CNCs, robotics, and ROBOMACHINEs, will demonstrate automated woodworking solutions for a wide range of industries including construction, home furnishings, cabinetry, musical instruments, flooring and many more at the International Woodworking Fair in Atlanta, August 23-26.
Robotic Demonstrations
Assembly with CRX Cobot
At the show, a CRX-10iA collaborative robot will mock glue wooden boards and assemble them into a shaker style cabinet door. The robot will use FANUC's Remote Tool Center Point software (RTCP) to apply the glue before assembly. After assembly, the robot uses 2D iRVision® to inspect the fit of the boards.
FANUC's CRX cobots are extremely robust and able to run for up to eight years without maintenance. In addition, interactive programming enables users to teach points using hand guidance or a tablet interface with drag and drop icons.
FANUC's line of CRX cobots are very easy-to-use, reliable, and offer the flexibility to perform a variety of jobs including inspection, machine load/unload, packing, palletizing, sanding, welding, and many more. The CRX cobots can detect external forces in the workspace, stopping safely when making contact with a person or object.
Sanding with M-10iD/12 Robot
This demonstration features a FANUC M-10iD/12 robot equipped with a FANUC FS-15iA force sensor and an ATI RCV-390 deburring tool to mock sand the perimeter of a guitar body. Next, the robot will use an ATI AOV-10V orbital sander to mock sand the flat back portion of the guitar body. Finally, the robot will use a Schmalz FXCP vacuum gripper to move the guitar body throughout the cell. The demonstration showcases the robot's flexibility to perform multiple tasks with accuracy.
The M-10iD robot series includes four compact material handling robots – the M-10iD/12, M-10iD/10L, M-10iD/8L and M-10iD/16S. The robots' payload capabilities range from 8-16kg, allowing them to handle a variety of products.
Painting with P-40iA Robot
The FANUC P-40iA is the latest model in its paint robot series, and offers an affordable and versatile solution for companies looking to automate all or part of its painting/coating process.
At IWF, a P-40iA paint robot equipped with the R-30iB Plus Mate controller will demonstrate painting a wooden guitar body using coordinated motion with a turntable, which means that the robot will control the motor that rotates the part on the turntable. The robot will paint the part as it rotates a full 360 degrees, allowing coverage on all sides of the part.
Factory Automation Demonstrations
FANUC's Factory Automation division is featuring an exciting way to see part production with the latest Visual Twin demonstration highlighting its end-to-end digitalization solutions for the machine shop. FANUC's Visual Twin is an exact software replica of real CNC machine tools. The Visual Twin will display a virtualized 5-axis machine tool cutting a part, which mirrors the real-world machine's behavior.
Tags: CNC, IWF Atlanta, Robots, woodworking, woodworking and manufacturing, woodworking event, woodworking industry, woodworking USA