Fanuc's latest innovation is here
&nbspMonday, February 6, 2023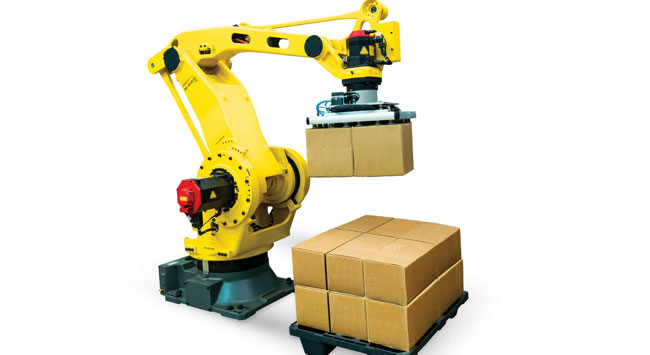 Fanuc's latest new innovation – Tablet Teach Pendant (TP), is designed to meet ease of use as its highest priority. It makes robot programming as easy and simple as using a smart device. The new Tablet TP has a lightweight, ergonomic design that's very comfortable to hold and easy to use whether the user is programming their first robot or has years of automation experience. It features the same user-friendly features and intuitive functionality as the CRX Collaborative robots.
Drag & Drop Programming
Creating a program for a FANUC robot is now easier than ever before and takes just a few minutes. Simply drag and drop your programming instructions on a timeline to program a robot, quickly teach points or create simple logic.
The Tablet TP offers powerful functionality, including:
Simple drag-and-drop programming interface
Create custom screens using a Software Development Kit (SDK)
Easy connectivity to third-party devices
An e-stop button for maximum safety in the robot work cell
Application Versatility
If your industry or application requires the strength and speed of one of our standard industrial robots, there's zero learning curve for your on-site operators to switch from programming a cobot to an industrial robot.
Familiar Functionality
The new Tablet TP for industrial robots offers the same functionality as our standard teach pendant including:
Customizable screens
Create your own HMI using the Tablet TP's customization feature.
4D modeling
Highly realistic 4D graphics bring tool and frame settings, safety zones and robot paths to life.
Smart functions
Easy operation including:
Graphical Tablet TP editor
Time saving direct access to two additional axes
Direct switch between motion groups
Multi-window display provides more information
Easy setup/modification of iRVision
USB connection for memory stick or mouse
Node maps
Visual representation of motion paths and program points along a node map makes understanding the robot's path easy.
Visual jog
Confirms direction and distance of jogging quickly and conveniently using the 3D model.
Ensure Safety
Above everything else, operator safety is the most critical component of robot cell design. FANUC provides a variety of intelligent safety solutions that keep costs and demands on floor space to a minimum, while keeping operators, robots and tooling extremely safe.
Tags: wood, woodworking, woodworking and manufacturing, woodworking event, woodworking industry, woodworking USA