Five-Piece Polyester Wrapped Doors from Arkansan Wood Doors
&nbspFriday, June 5, 2015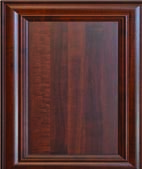 Arkansan Wood Doors introduces its Five-Piece Polyester Wrapped (PW) Style Doors and matching drawer fronts, available in several options. Door rails and panels are polyester wrapped with the same base materials and prints to perfectly match LPL and HPL materials, says the company.
Laminates allow for perfect color matching and fade-resistance years after the original cabinetry is installed, adds the company and all joinery is mitered, mortise and tenon.
Olon five piece door components in NEXGEN laminates offer a permanent antibacterial surface with higher heat, scratch and stain resistance versus RTF and solid woods, says AWD.
As with the company's other door styles, the five piece PW doors are available to view at ArkansasWoodDoors.com

Source: Woodworking Network