Formica Corporation expands its brand laminate lines
&nbspFriday, September 22, 2023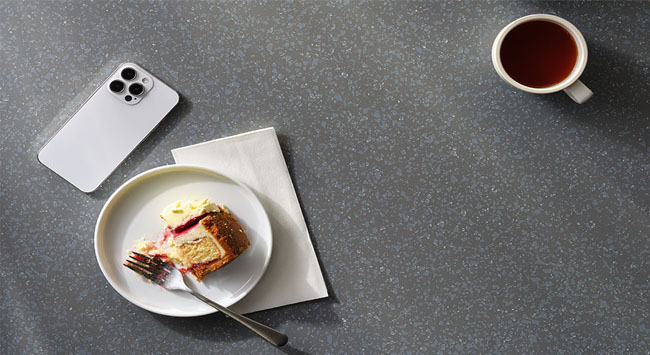 Formica Corporation recently expanded two of its most popular product lines for further expansion of its market. Everform® Solid Surface adds seven trend-forward patterns to its lineup, while the four designs of the Fabric Collection bring new woven life to the brand's Formica® Laminate portfolio.
Everform® Expansion–
Formica has introduced seven new Everform® Solid Surface designs, each inspired by two dominant trends: design softened by the organic forms of nature and the return of expressive color. The acrylic solid surface designs include:
Tumbled Harvest: An interpretation of tumbled beach glass punctuated by glass green, subtle amber and coral.
Nero Terrazzo Matrix: Bold and graphic chips of light blue, terra cotta, butterscotch and gray embedded in a saturated black surface.
Frosted Gray: Packed translucent and sparkling chips give the illusion of embedded glass in the surface in this mid-tone cool gray.
Fossilized Lava: A dark, warm gray with low-contrast cool gray chips giving the illusion of its namesake.
Fossilized Pebble: A warm neutral beige building the effect of a fossilized stone.
Sage Speck: An olive-green surface speckled with white, clay and translucent chips.
Indigo Speck: A blue-gray surface building movement with multicolored speckled chips.
It is designed for both horizontal and vertical use across both commercial and residential settings.
As a nonporous and seamless material, it makes cleaning a breeze, whether it's in a medical environment or a kitchen island.
Introducing the Fabric Collection–
Formica has also introduced its Fabric Collection as part of its Formica® laminate line. Designed to mimic the look of linen, these four new laminate designs use an organic cross-weave pattern, bringing a sophisticated coziness and warmth to interior spaces. The colorways include:
Sheer Fabric: A wispy, warm white.
Muslin Fabric: A true neutral highly usable across warm and cool environments.
Gray Fabric: A muted classic gray.
Chambray Fabric: A neutralized light denim blue.
Speaking about these new introductions Gerri Chmiel, senior design manager at Formica Corporation said, "Our new introductions are a reflection of where design is moving – organic forms, expressive color and softened environments." Formica constantly communicates with designers and architects to understand the need of the market to further produce products that encourages the company's growth. These new introductions have also brought in new scopes for fulfilling the customers' demands and needs.
Tags: Formica, laminates, wood, wood and panel, woodworking, woodworking and manufacturing, woodworking industry, woodworking USA