ForMóbile 2022: exceeded expectations, shared knowledge, promoted sales
&nbspWednesday, July 27, 2022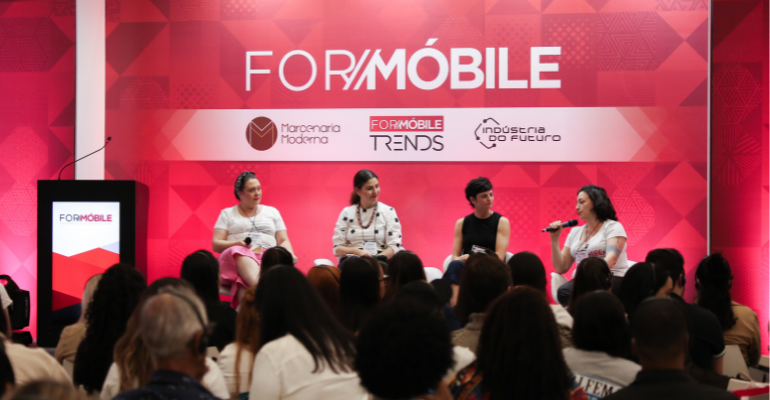 The ninth edition of the fair exceeded expectations shared knowledge and promoted sales! ForMóbile 2022 marked the reunion of all professionals in the furniture chain and business opportunities in Latin America. One of the leading trade shows for the Latin American furniture industry happened between July 5 and 8 marked exceptional participation and overwhelming response from around the world. Over 50 thousand people visited the Sao Paulo Expo during the four days of the event. In this edition, the fair also had more than 500 exhibiting brands (national and international), occupying 50 thousand square meters of the pavilion.
Big Focus:
Sustainability
Palco ForMobile
Espaço Maker
Business Round
Top Mobile Award
Technology Trends
Women's Protagonism in Joinery
For years male carpenters dominated the furniture sector. However, now the situation is changing and recent data confirmed that women involvement in the industry is rapidly increasing. The panel "Protagonism of Women in Woodworking" brought together the architect and presenter of ForMóbile NoSofá Juliana Pinheiro, the Lumberjills – Letícia Piagentini and Fernanda Amaral – and Fernanda Barretto, from Oficina umauma.
The closing of ForMóbile 2022 was marked by a high volume of closed deals, a fact that reflects the power of the sector. In addition to the success of partnerships, the number of visitors also exceeded expectations. "We closed the 2022 in-person edition exceeding all expectations. Whether due to the qualifications or the volume of professionals present during the four days of visitation, the visiting public took the São Paulo Expo in search of novelties that could not be launched in the years of pandemic. It is evident that the market was anxiously awaiting this meeting and closes this edition with a renewed customer base!", said the show manager of the event, Tatiano Segalin.  
Tags: ForMobile 2022, woodworking, woodworking and manufacturing, woodworking event, woodworking industry, woodworking USA