FSC applauds Roseburg
&nbspWednesday, October 12, 2016
On October 5, at the GRAMMY Museum, Roseburg was recognized at the FSC Leadership Awards for being one of the longest continually certified companies in the U.S. and for providing a continuous supply of FSC certified products to the green building marketplace.
Roseburg was nominated for the award by SCS Global Services (SCS), the company's FSC certification body, in recognition of excellence in the use of FSC certified products and commitment to responsible forest management. A founding member of the Forest Stewardship Council, SCS is one of the world's most respected FSC Forest Management and Chain of Custody certifiers (FSC License Code: FSC-A000521). Commenting on the award recipients, SCS Executive Vice President Dr. Robert J. Hrubes said, "We hope their achievements will inspire others across the globe to take similar steps toward a more sustainable future."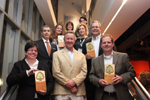 "The FSC Leadership Awards recognize organizations and people who really distinguish themselves in efforts to promote responsible forest management," said Corey Brinkema, president of the Forest Stewardship Council US. "The FSC leaders show that with a bit of creativity and dedication, it's possible to make a big difference for our forests, wildlife and communities." Corey added further.
Roseburg owns and sustainably manages approximately 175,000 acres of California timberlands that are certified to the Forest Stewardship Certification® Forest Management Standard. In addition, all of Roseburg's manufacturing facilities (13 in total) are certified to the FSC Chain of Custody and Controlled Wood standards. Roseburg was among the earliest companies to pursue FSC certification and, having been certified since 2000, is one of the longest continuously certified companies in the United States.
"At Roseburg, we are proud of our long history of incorporating responsible stewardship into our forest management practices and embracing sustainability standards enterprisewide," said Steve Killgore, Roseburg's Senior Vice President of Solid Wood and Marketing. "Our success and longevity depend on healthy forests and communities. We are dedicated to applying FSC practices and standards to achieve both." Steve concluded.
Roseburg's Multisite Chain of Custody Certificate allows the certified wood from its timberlands to be used in a variety of finished products, such as high quality hardwood plywood, wood siding, particleboard, MDF, lumber and engineered wood products. Roseburg also purchases FSC certified logs and fiber from other sources, thereby increasing the influence and value of certified timberlands in the region. Roseburg has worked with other manufacturing companies to help them achieve chain of custody certification which, in turn, has helped to expand the reach and value of FSC Certified products.
With 2015 sales of FSC Certified products to over 220 FSC Chain of Custody Certified customers, Roseburg products are specified for use in thousands of commercial, residential and government building projects throughout the world.
In 2014, Roseburg was honored to be selected by LivingHomes to supply FSC certified materials in the building of a 1,450-square-foot, three-bedroom, two-bath demonstration home which met LEED® Platinum Level standards. This first-of-its-kind modular home was showcased at GreenBuild 2014 in New Orleans. Built in collaboration with Make It Right (a non-profit specializing in the construction of affordable, high-performance houses for communities in need), the home was then moved to its permanent site in New Orleans' Lower Ninth Ward and acquired by a low-income family participating in Make It Right's home buying program.
Roseburg has been a very active member in the communities where its timberlands and manufacturing facilities are located. The company employs thousands of highly skilled professionals in forestry and manufacturing in the Pacific Northwest, the Rocky Mountains and the southeast US.
"We were blown away by the accomplishments of our award winners this year," Brinkema said. "By building the market for FSC products, the award winners show we can conserve forests, even as we use forest products in our daily lives."