Giardiana Group witnesses a successful AWFS 2019
&nbspThursday, August 1, 2019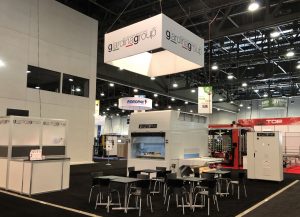 Giardina participated in AWFS 2019 exposition in Las Vegas with a precise purpose: showed their technologic skill and, at the same time, reaffirm their proximity to Western United Statess, an area characterized by the presence of their clients' little and medium enterprises. So they came with tecnologies made for entreprises like these, reminding once more they will be a partner and a reference for anyone who works with finishing, independently from its dimensions. And with their sprayer "Dualtech 415" with paper transportation, that Giardina brought to the ex position, they caught the mark!
A very positive feedback from the operators' public, with the opportunity to establish good quality contacts that will give them so many pleasures in the future.
Their clients with whom they already have consolidated relationships didn't miss: Giardina shared opinions with them, without missing the chance to show them the latest innovation, presented in the last Ligna, most of all their excimer technology "GST Zerogloss" that allows to obtain "ultra opaque" surfaces with both finishings applicated with roll machines and Giardina's latest versions for tridimensional spray-painted surfaces.
Tags: AWFS 2019, Dualtech 415, Giardina Group, GST Zerogloss, successful, technological skill, Western United States