GRASS Showcased Their Latest Products in AWFS
&nbspThursday, August 20, 2015
Tiomos Hinge System
                                         950 opening angle
The Tiomos 95 hinge for thick doors offers a 950 degree opening and can accommodate doors up to 36mm (17/16") thick. The Tiomos 95 offers a three tired adjustable soft-close mechanism which is fully integrated and concealed in the hinge arm. The Tiomos 95 hinge is available in a screw-on version, dowelled version, and Impresso tool free version in a 45mm boring pattern and the Grass standard 42mm boring pattern. The hinge is offered in a soft-close or self-close version.
The Tiomos Hinge System provides perfect movement for virtually every application, from standard doors to wide doors, from frameless applications to face frame applications.
The cabinet doors pull open with ease and minimal gaps can be achieved with the new design of the hinge.
Tiomos Pie-Cut Corner Hinge
The Tiomos hinge system offers a versatile program of specially hinges for various applications. The Tiomos Pie Cut Corner hinge is a self-closing hinge designed for connecting two folding doors in a corner cabinet application.
The Tiomos Pie Cut hinge offers 3-dimensional adjustment on a suitable base plate and can accommodate door thicknesses. The snap-on connection hinge to plate makes the assembly quick and easy without the use of tools.
The Pie-Cut Corner hinge is available in a screw-on or dowelled version, in a 42mm or 45mm boring pattern.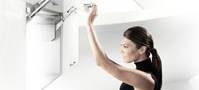 Kinvaro L-80 Lifter Systems
The Kinvaro L-80 Parallel Lifter System offers a smooth quiet action as the lifter opens a single door in parallel to the cabinet. The lifter allows quick and easy access to cabinet interiors as the door is pulled up and out of the cabinet way.
In one smooth motion, doors, regardless of the weight, lift up and hold firm in any position. Easy tool-free adjustments make the L-80 lifter the perfect hardware for large wall cabinets with their vast amount of storage space.
Grass Lifters open effortlessly via spring power assistance and accommodate various door weights.
Tags: awfs, grass, kinvaro, tiomos