Hettich Canada takes craftsmanship to new heights through partnership
&nbspThursday, June 8, 2023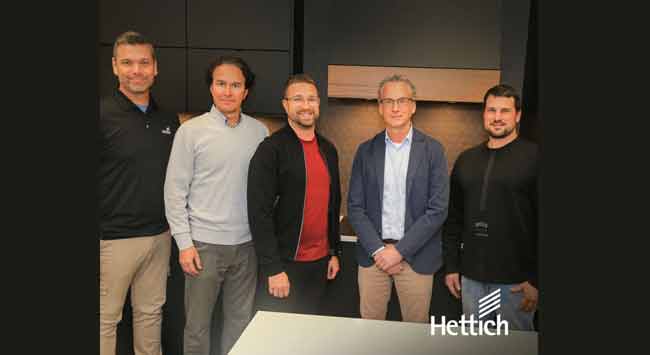 Hettich Canada and Commonwealth Plywood Partner with Théo Mineault Maître Cuisiniste to take the architecture and design industry to new heights.
Hettich Canada, and Commonwealth Plywood Ottawa, renowned distributor of high-end cabinet and millwork products, are pleased to announce that they have partnered with high-end cabinetry manufacturer, Théo Mineault Maître Cuisiniste, to create their newest state-of-the-art showroom located in Gatineau, Quebec.
"Hettich, Commonwealth Plywood and Théo Mineault Maître Cuisiniste are all dedicated to their craft, committed to quality and constantly innovating", said Marc-André Hétu, Regional Sale Manager of Hettich Canada. "This strategic partnership will surely drive the design community to new heights, and we look forward to working closely with both teams in this next phase of our expansion and development."
In addition to its line of Commonwealth products, Théo Mineault Maître Cuisiniste will now also carry a range of Hettich solutions including the AvanTech YOU Illumination. AvanTech YOU is Hettich's high-quality and versatile drawer system that combines sleek design, superior functionali-ty, and limitless customization to create a truly unique and tailored user experience. It is engineered to provide a high of degree strength, durability and stability.
The system is available in Hettich's sleek, newly-launched Anthracite fin-ish and features a range of customizable options including LED, OrgaTray 270 and Anti-slip Mat, available in 101mm, 139mm and 187mm.
Théo Mineault Maître Cuisiniste will also be the first cabinet manufacturer in North America to offer Hettich's Sensys Hinge in Obsidian Black as a standard for 100% of their projects. Its sleek, modern and silent system is designed to elevate the look and functionality of any cabinetry and the Obsidian Black finish adds a touch of elegance and sophistication to any design. Along with these two products, the showroom will also carry Het-tich's, Push to Open Silent System, the Waste Bin System with stainless steel foot pedal Pull, Cover Caps and WingLine L door system with Push to Move.
Théo Mineault Maître Cuisiniste adopting Hettich Canada and Commonwealth Plywood as their brands of choice demonstrates a level of trust and collaboration between these manufacturing leaders that will undoubtedly elevate quality standards in the industry and encourage other furniture and cabinetry manufacturers to innovate in order to remain competitive.
Tags: architecture and design industry, Commonwealth Plywood Partner, Hettich Canada, wood, woodworking, woodworking and manufacturing, woodworking event, woodworking industry, woodworking USA