Indaux US enlarges its business potential after IWF
&nbspMonday, September 5, 2016
Indaux, an furniture fittings manufacturer present in 80 countries with over 2,000 clients visited the International Woodworking Fair (IWF) in Atlanta, held between August 24 and 27. This was the fourth time that Indaux participates in the fair, although this year was the first time as Indaux US after opening its American subsidiary in High Point in 2015, managed by Dean Bosch, VP of the company.
The announcement of the establishment of the American subsidiary, with its own warehouse, was received with high satisfaction. The stand received more visits with a higher business potential than previous years. " Indaux's main draw for the American market lies in its extraordinary flexibility in developing furniture fittings adapted to the local product, its fast response time and its vast knowledge of this market, supported by Werner Bosch, who has been working for the furniture- fittings sector for 30 years.These three variables are oriented toward achieving the utmost customer satisfaction, since the same manufacturer offers both technical and commercial services to its clients", states Pablo Arratibel, Indaux US Subsidiary Manager.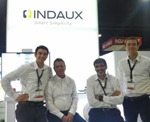 On this occasion, Indaux shared its IWF stand with the German brand VauthSagel, with whom it already shares the warehouse and logistics. Both brands, which complement one another with the products they supply to the American market, decided to broaden their synergies in the commercial realm, as well."The collaboration at the stand, in work and the synergy with VAUTH SAGEL was all so positive for both companies that we feel encouraged to repeat the experience and share a stand at Kitchen & Bathroom, which will be held in Orlando in January", said MikelArzallus, the brand's commercial director.
Indaux US has set the short-term goal of reinforcing its sales network with a solid team of representatives. The brand has offered its entire collection to its distributors. Moreover, visitors were especially interested in specific products such as the double-walled Ariane drawer and the "Atlas" system, the attachment device for low hanging kitchen and bathroom furniture.
Indaux was first christened as IndustriasAuxiliares in Getaria (Spain), birthplace of the designer Cristóbal Balenciaga, in 1962. It started up as a small workshop, specialised in manufacturing furniture components. Today, Indaux is one of the European leaders in the ironwork industry and has become a flagship brand internationally, present in over 80 countries with over 100 registered patents, a catalogue with 10,000 references and more than 2,000 clients all over the world.