Industry Innovators witnesses the best from I-Learn event
&nbspTuesday, May 3, 2016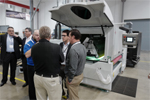 Judging by the more than 100 people who stopped by its Lab the last week of April, Cefla North America chose just the right time to hold its Spring 2016 I-learn event. Not only did people who were in Charlotte for the NWFA Flooring Expo come, but many other customers made a special trip to town to take advantage of an opportunity to see how quickly the finishing industry is advancing.
All of those who came to Cefla North America's headquarters for I-learn were able to get first-hand experience with a wide variety of finishing equipment, under one roof, in one truly state-of-the-art 15,000 square-foot lab. "We opened the event up to not only flooring manufacturers in town for the NWFA conference but to everyone from kitchen cabinet manufacturers to furniture manufacturers," says Cefla North America Sales Manager Brent Warren. "People came because they were looking to make investments, upgrade equipment, and enhance automation. We held educational seminars on the newest technologies and held demonstrations in our lab of virtually all the machines we have, including our new technologies."
Visitors were especially excited to see new technologies for digital printing and Inert Coating Technology, including options for flooring, components, solid wood and panels.
The I-learners who participated got a "first look" at Cefla's Fusion and Inert Coating technology by Sorbini, an IWF Challenger's Award entry. They also got to see the Pixart PLOT large format printer in action, and were amazed at the quality of high-definition printing it achieves on a variety of media.
"We staged the event because people in the industry didn't want to wait until the IWF in August to see the latest-and-greatest," Warren said. "They are eager to incorporate innovations as fast as possible to meet the demands of changing markets. Even though our I-learn event was scheduled for April 27th and 28th, we had a dozen or so customers who were so eager to see what we had to offer that they showed up the morning of the 29th." He added further.
There was also much to learn about Cefla's new partnership with Henkel Corp., developer of Technomelt CHS UV fusion coating technology. "We were showing high-gloss products produced on the Inert line during I-learn," Warren remarks. "That was very exciting for many of the companies who saw how much time and space the new product can save, as well as how it reduces operational and material costs." He concluded.
Tags: april, CEFLA, conference, flooring expo, i-Learn event, North America, NWFA, spring 2016