Industry "Takeover" of School Wood Program for MFG Day
&nbspMonday, November 8, 2021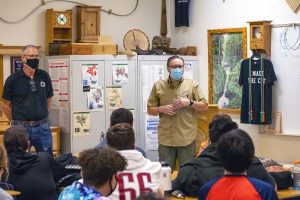 Students completed a joinery-focused project and received "goodie bags". Eleven wood industry professionals were guests of Desert Oasis High School in Las Vegas on Friday, October 22 for a special "MFG Day" (Manufacturing Day) event. The guests led three periods of instructor Tim Wenzel's woodworking program through a project featuring current industry joinery techniques and shared information about their careers in the industry with the students.
Industry Pros Connected with Nearly 75 Students
The day began with an advanced level 3 class with 23 students (mostly seniors), followed by two intermediate level 2 classes of over 50 students total, consisting of sophomores and juniors. Through the guests' attendance, the students were able to learn about different local employers and types of companies within the industry, including machinery and materials suppliers. "It was a pleasure to have this special event for our students," says Wenzel. "It reinforces what they are learning throughout the year and adds excitement about continuing their woodworking education and considering a wood-related career pathway." In addition to Mr. Wenzel, Assistant Principal Jennifer Giusto and Clark County School District Career Technical Education (CTE) Department team members Tristan Hays and Craig Brockett supported the event.
The event was initiated by Reborn Cabinets and was originally intended to take place at their new showroom in Las Vegas. However, due to the substitute teacher shortage, students were not able to leave campus and thus the industry guests were invited to the classroom. "We are so excited to be in Las Vegas to connect with the students directly," says Diana Ramirez, Director of Community of Relations at Reborn Cabinets. "The woodworking facility at Desert Oasis High School is impressive and the students are in good hands with Mr. Wenzel. We were happy to support the program and facilitate a fun day for everyone, all done with the goal of inspiring future generations about the many woodworking opportunities available to them."
Tags: COVID-19, woodworking, woodworking and manufacturing, woodworking event, woodworking industry, woodworking USA